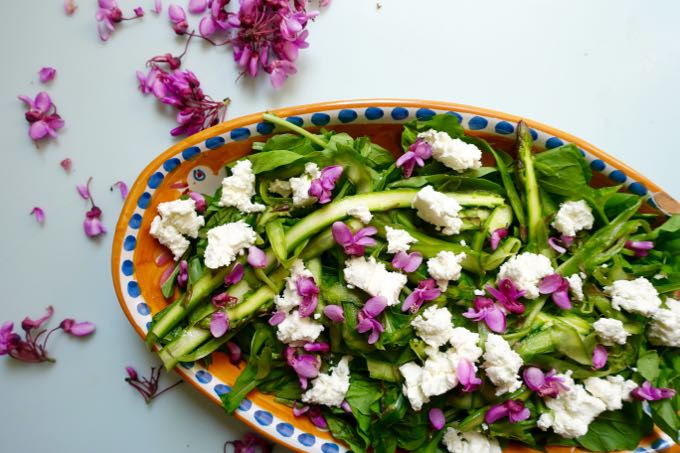 People ask me all the time how I decide what to cook when I'm at home. I would say that 45% of the time it depends what is in season. Then there is the other 45% that has to do with what I actually happen to have in the house (which is sometimes seasonal, and sometimes just pantry or freezer items). I don't do much planning ahead.
Then there is that other 10%. That's where inspiration comes into play. And inspiration can come from just about anywhere. This asparagus salad was inspired by one that Sophie's friend Amanda made last week for us. Sophie and Amanda went to high school together here in Rome, and then were room mates for a while in London. After a few years traveling around Europe and Asia, Amanda is back in Rome (we are really happy about that!) and honing her skills as a chef (we are even happier about that!).
She came over to help Sophie and I with our Week in Rome tour, and prepared the inaugural dinner. And a version of this asparagus salad was the inaugural dish. The main thing I took away from this salad, and which I think is brilliant, is slicing the asparagus paper thin, and them giving them a good soak in lemon juice before tossing them with greens.
I've fancied up the salad a bit since I was also inspired during yesterday's run to the Farmer's Market. While stocking up on fave beans, I almost missed the wicker basket that was hanging from the front of my favorite stand. Although it was pretty hard to miss since it was filled with almost blinding pinkness. When I looked closer I realized that they were Redbud blossoms. Redbud is called cercis siliquastrum in Latin, and Albero di Giuda here in Rome. They are the pink trees that burst into bloom and dot the Roman Forum and line some of the streets in Parioli and Prati. These particular blossoms had been harvested that morning,in the countryside just north of Rome and were perky, fresh and just asking to be scattered atop a salad. The flowers are slightly crunchy, and just a bit sour.
I also added goat cheese to the mix, since Sophie and Amanda had taken our group up to the goat farm in Umbria this past week, and had come home with about 2 kilos of fresh goat cheese.
Feel free to let your inspiration run wild. I used arugula, but I'm thinking that watercress would also work nicely. And of course you can make this without the edible blossoms. But why would you?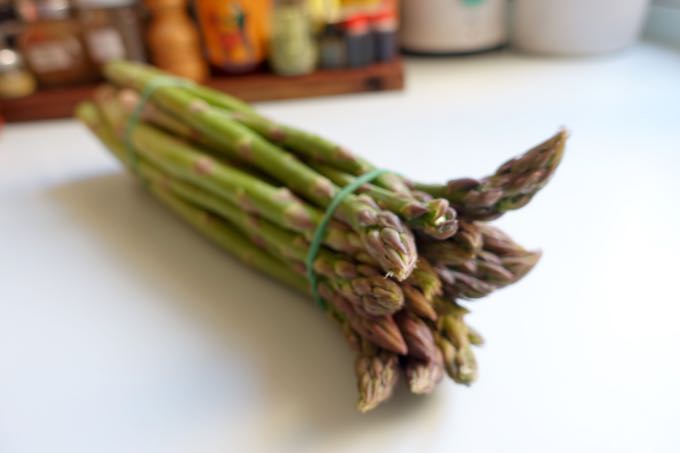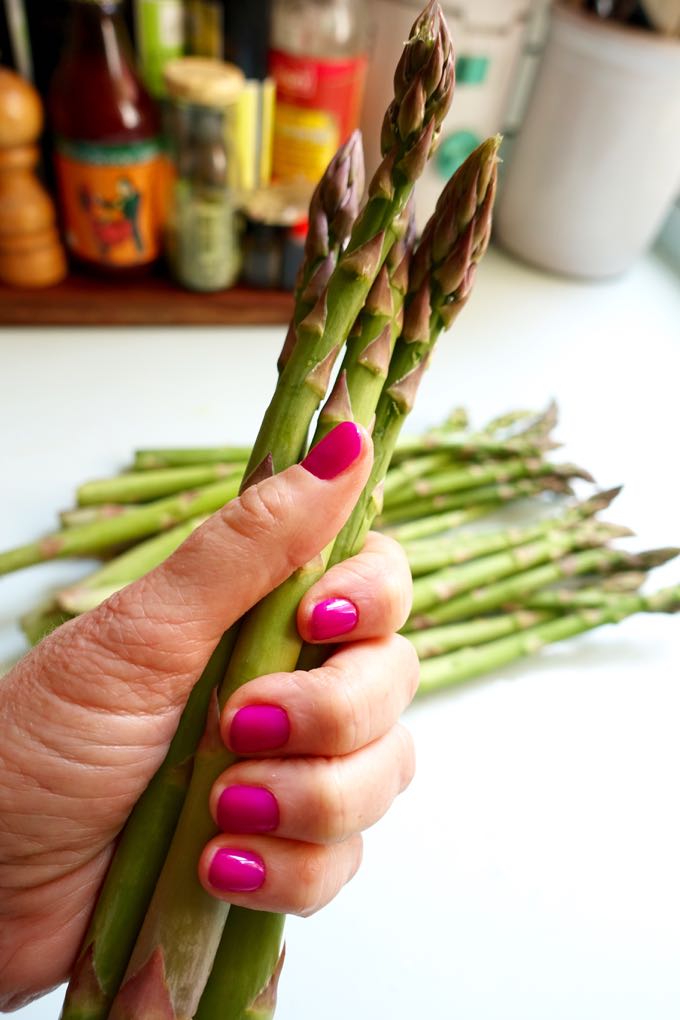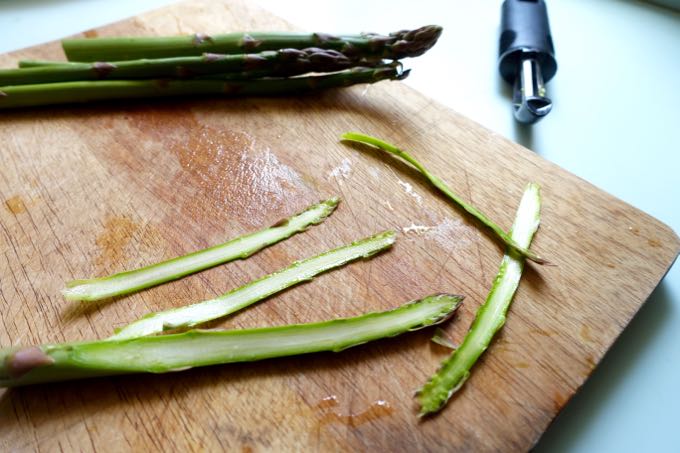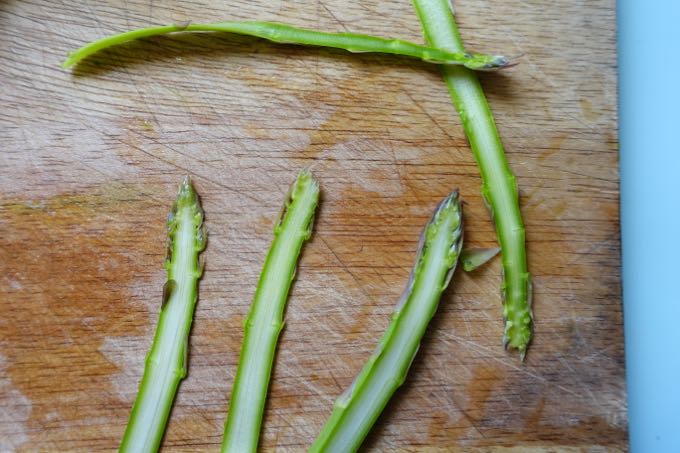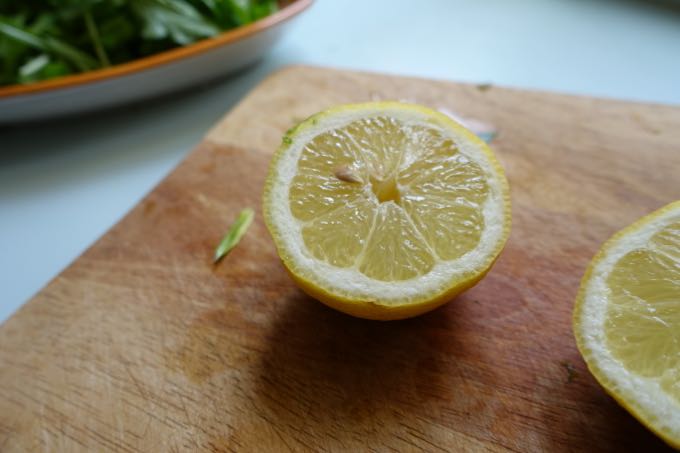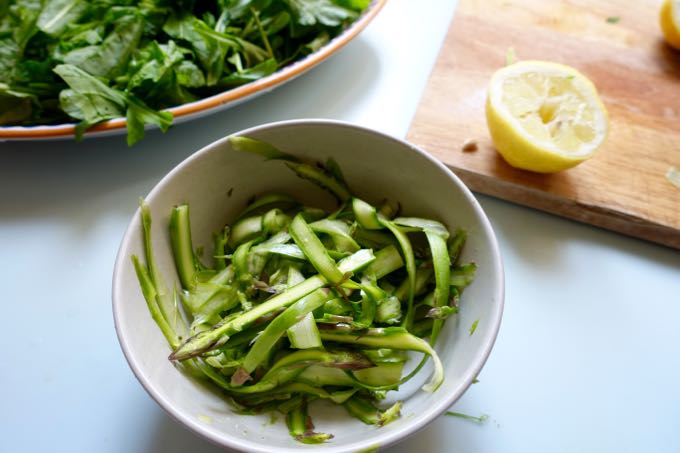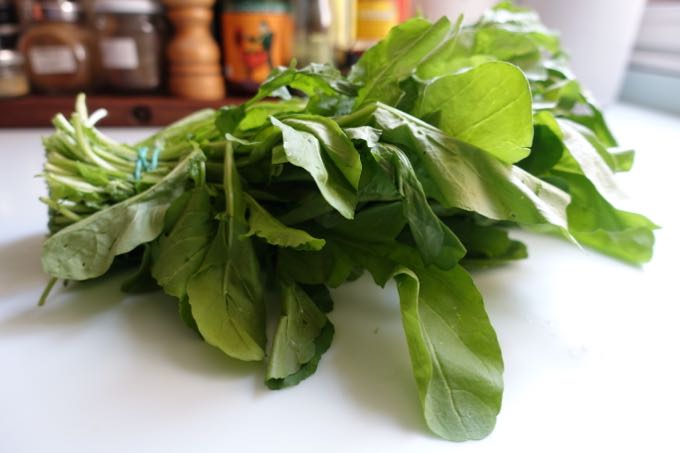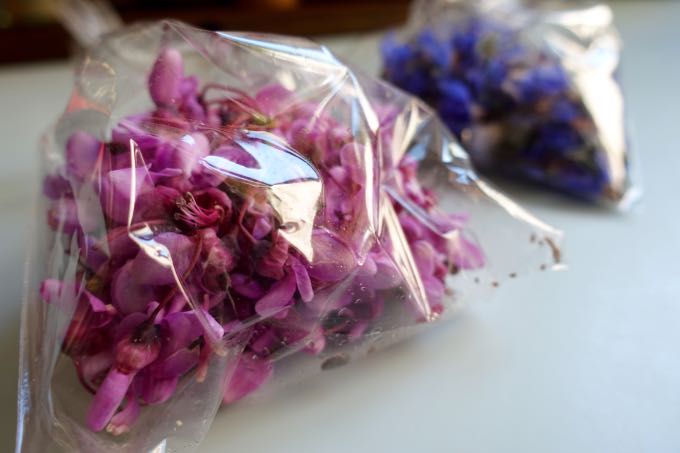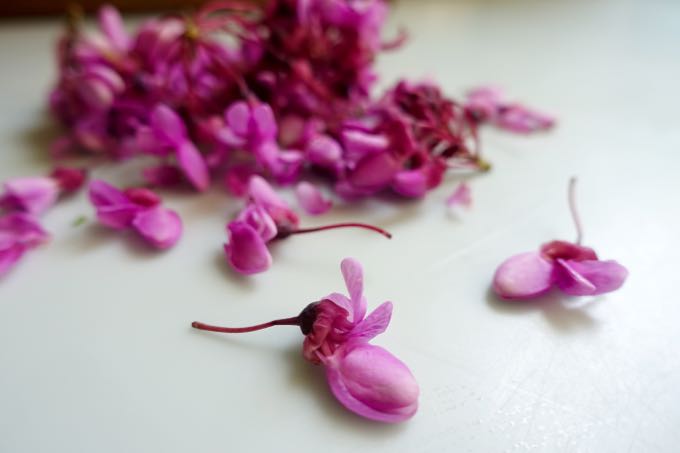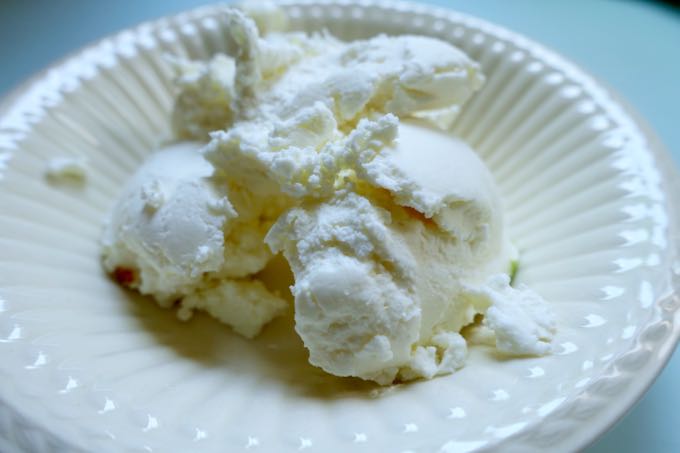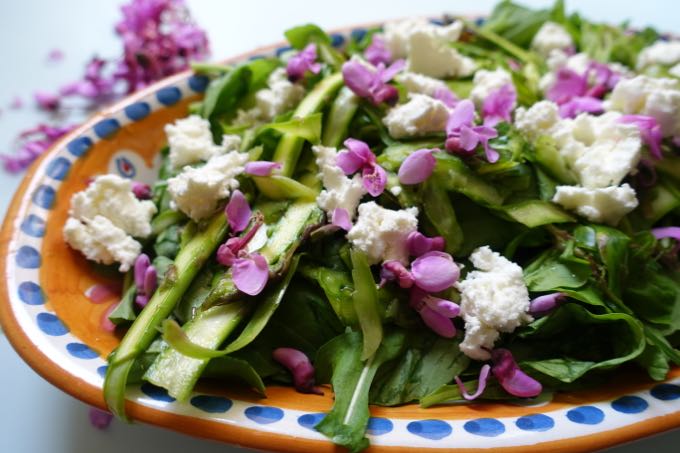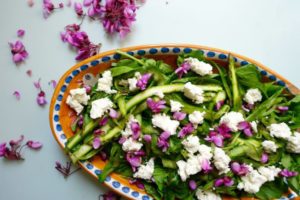 Print
asparagus salad
Yield 2
Ingredients
4 cups tender leafy greens like arugula or water cress
6 spears asparagus
juice from half a lemon
1/4 tsp salt, plus more
1/2 cup mild goat cheese
1/4 cup redbud blossoms
olive oil
pepper
Instructions
Scatter the salad greens on a small platter.
Wash the asparagus, then using a vegetable peeler, slice the spears lengthwise, very thinly. This can be a bit tricky. I find that placing the spear along the edge of a wooden cutting board, then running the peeler along the length, works best. Long strips are nice, and pretty, but don't worry if some of them break apart.
Place the asparagus in a small bowl. Add the salt and lemon juice, mix well and then, using your hand, gently massage the strips. They will wilt, which is what you want. Let them sit for at least 10 minutes.
When ready to serve, pour the asparagus, plus any juices at the bottom of the bowl, over the top of the greens. Add the goat cheese, broken up in to chunks, and then the blossoms.
Pour olive oil over (abut a 1/4 cup) and adjust for salt and pepper. Bring it to the table like this, before tossing, since it looks so pretty.