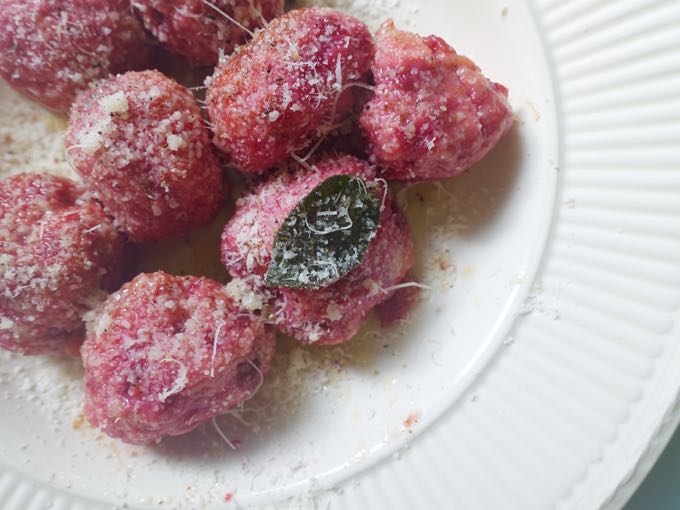 I'm not usually one to post holiday recipes. It's not because I don't approve of them. It's just that I'm not that organized. At one point I attended a presentation that said that people start planning out their holiday Pinterest boards 4 months ahead of time. 4 months? I can barely figure out tonight's menu plan.
But a few weeks ago I made these beet gnudi and thought that they would make a perfect Valentine dish. Because, you know, pink. So while you can certainly make them any time you want, if you are looking for a pink themed first course for your loved ones, this'll do it for you.
Gnudi, in case you're unfamiliar with them, are little ricotta dumplings. They are called gnudi, which kind of sounds like naked in Italian, because they are more or less the naked filling of ravioli, without the ravioli to cover them up. So there's that sexy aspect to them which also lends a Valentine day theme, I guess.
A lot of people are put off by fussy recipes like these, so I've made a video to show you just how easy it is.
And if it's not Valentine's Day or if you don't like beets, feel free to play around with other vegetables.
But in the meantime? Here's a big beety kiss of a pasta dish for your holiday.