I meant to get this recipe for potato salad up before today. Because today is potato salad day right? Labor Day in the States, which means cookouts and picnics. Which means potato salad. None of which are Italian things by any stretch of the imagination.
Which is kind of the excuse I'm using to explain why this recipe arrives a bit late for today's celebration. There is no holiday today in Italy. Which means I forgot.  However….if your plans include roasted potatoes (definitely an Italian kind of thing) then you'll find this recipe will come in handy tomorrow.
You know that point when you're about to make potatoes – roast, mashed, almost any recipe but baked – and you ask yourself (and anyone standing near you in the kitchen) "How many potatoes should I peel? How many potatoes do we need?"
I'm sure there is some sort of equation for figuring this out, but like everyone else, once I decide on how many potatoes we'll need, I usually throw in a few more, just to be safe. And then a few more on top of that, just to be sure.
Which means, almost every time, I have leftover potatoes.
Which leads me to today's leftover roasted potato salad recipe.
Roasted potatoes have a robust flavor and enough fat to make turning them into a delicious salad the next day not that difficult. A handful of herbs, some celery to give crunch and a cup of yogurt to turn it into a salad. To give it punch I added lemon juice as well as half a jar of pickled vegetables. My friend Beatrice from Gustiamo had just send me a few jars of Antipasto, a mix of eggplant, artichokes, pumpkin and other veggies that had been cooked, marinated in vinegar and the preserved in olive oil. Chopped up and added to the potatoes they brought it to a whole other level.
So, really sorry again about the lateness of this post. But if you are making roast potatoes today by any chance, throw in a few extra (which you probably were going to do anyway) and then make this tomorrow. In the mean time, Happy Labor Day!!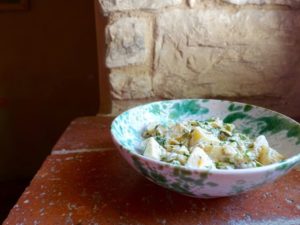 Print
roasted potato salad
Yield 2 -4
One of the key ingredients this potato salad is the cup of marinated vegetables. I used a jar of Antipasto, from Gustiamo. But if you can't find that, you can substitute a cup of good quality giardinier, olive oil packed if possible or marinated artichokes.
Ingredients
2 to 3 cups leftover roast potatoes
1/2 to 1 cup whole fat yogurt
1 cup chopped mixed herbs (parsley, chives, basil)
1 stalk celery, diced
1/4 cup diced red onion
1/2 cup chopped marinated/pickled vegetables
salt, pepper
fresh lemon juice
Instructions
Place all the ingredients in a bowl, and mix. Taste and adjust for seasoning, adding more lemon juice if you like it tangy