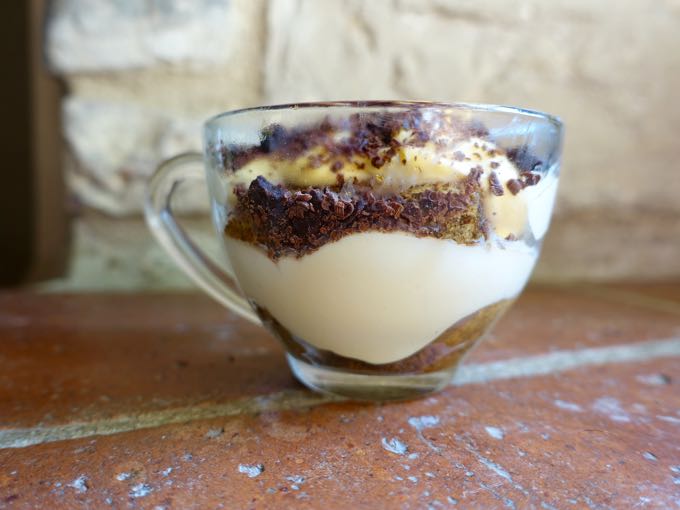 I didn't have many goals for this past month. Yes, I did a lot of 'research' for Eat Umbria. But that meant going out to lunches and dinners with friends and family. Not the hardest job imaginable. I also kept up the blog, but even then I've been doing it a bit less than usual. Like any good Italian, I consider August  vacation month, and during vacation I try to turn things down as much as I can.
One thing I had fully intended to do, however, was to make a video of my niece Scarlett cooking something when she and her family came to visit. We had such fun making this video two years ago, that we both wanted to do a repeat. We decided that Tiramisù would be the recipe because a) it is something that Scarlett loves and b) it was actually something that she could make 100% on her own.
Scarlett did her part, making excellent Tiramisù in cute little cups for our last dinner before the my sister's family returned home. Me? I totally flaked out and just couldn't get out of vacation mode long enough to make a video.
In fact, I am in such a lazy mode of being that I didn't even remember to photograph the darling desserts before we all attacked it.
So here, at least, is a photograph of one of the cups that was only half eaten.
And the recipe too. At least I've got that much for you.
It kind of surprised me that I'd never posted about tiramisù in the past. I guess it's just one of those recipes I take for granted. Although it's super easy (no cooking involved) there are few things to keep in mind when you make it. One thing I've come to realize over the years is that the main ingredient – marscapone – varies incredibly from brand to brand. It is basically clotted cream, and  the difference in taste obviously has to do with the original milk that was used. I find that the smaller brands I see in the supermarket tend to be more creamy and maybe a tad sweeter.
The cookies that are traditionally used are store-bought lady fingers. Again, these vary from brand to brand. Some are crisper, some are sweeter. If you can find them in a bakery all the better.
I'm a traditional tiramisù kind of girl. I dip my cookies in strong espresso and top the entire thing with a flurry of freshly grated dark chocolate. But if you want to go wild, you can certainly play around with both of those ingredients. Berries make a nice dipping syrup (be careful not to let it be too sweet) and freshly ground pistachio make for a gorgeous green flecked topping.
In my opinion, the prettiest way to make tiramisù is to make it in individual cups. I hate those big pans full of tiramisù, which always seem to be a gloppy mess. I have a set of cute glass cups that come from Bodum, ( they don't seem to make them any more – I looked). If you don't have little cups with handles (which are awful cute) use small glasses. The point is to be able to see the layers. Lately in Rome, I see restaurants are serving individual tiramisu in jars, which for some reason I think is one step to far towards cuteness.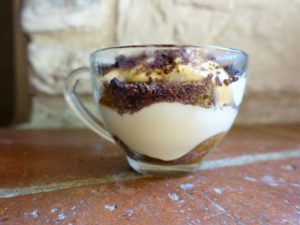 Print
Tiramisù
Yield 10
Ingredients
9 egg yolks
6 tablespoons sugar
750 grams / 1 1/2 pounds marscapone
20 ladyfingers
100 grams dark chocolate
1 1/2 cups strong espresso
10 1 cup cups or glasses
Instructions
Make the espresso and let cool to room temperature. If you don't want the caffeine, you can use decafinated.
Place the egg yolks in a large bowl. Add sugar, and using a hand held blender whip until light yellow and smooth. About five minutes.
Add the marscapone and blend until smooth.
Break a cookie in half and quickly dip each half into the coffee, flipping it over. The trick is to let it absorb some coffee, but not too much. Lady fingers can get mushy very easily and if you let them absorb too much coffee your tiramisu will be all soggy.
Place 1 cookie (broken in half) in the bottom of the cup. Repeat for each cup.
Then place a large heaping tablespoon full of the marscapone mixture on top of that, making sure to cover the cookie. Repeat for each cup.
Follow with another cookie per cup, and another layer of marscapone. You should have just enough.
Grate the chocolate or cut on a board with a chopping knife. I like using real chocolate, not cocoa powder which some recipes call for, since it gives a variety of texture and just tastes better.
Place in the refrigerator for at least 2 hours.