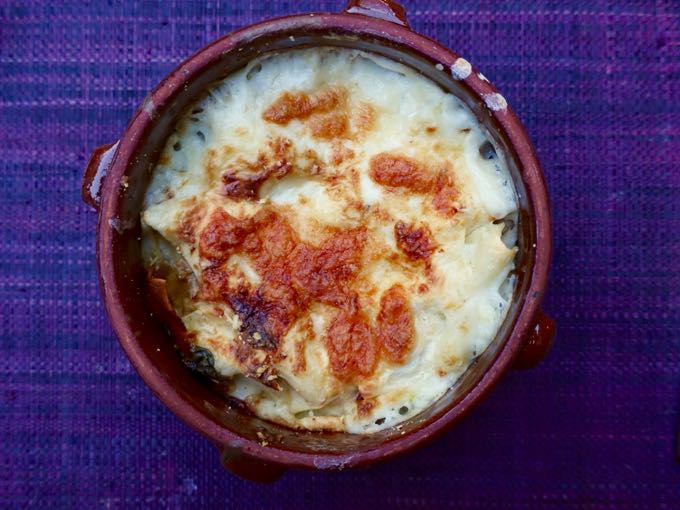 I should be fined  for cooking with zucchini this time of year. Because if I'm cooking with zucchini that means I'm buying zucchini. And I have no right to be buying any kind of zucchini when, in a few short weeks my vegetable garden in Umbria will begin its yearly zucchini fest. Zucchini that will keep on coming (and coming and coming and coming and coming) until at least September.
But last week there I was, faced with the prettiest looking organic zucchini sitting in an adorable basket and I just didn't have the heart to say no. I was at the little organic market in Todi which takes place every Monday. Since last weekend was a long holiday, it was the first time I was able to visit. Just a half dozen stands or so, with a few vegetable vendors, some cheese and cured meats, it was just about perfect.
It's oddly difficult to buy good produce in the Italian countryside these days. If you're not growing your own stuff, usually the only alternative is the big chain supermarkets. Some actually have ok produce, but of course it's rarely local and almost never organic.
Which is why, when faced with perfect organic local zucchini I just couldn't say no.
Last week the summer heat still hadn't hit yet, so I decided to do something a bit on the wintery side with my summer produce: Lasagna.
This recipe is a bit fussy, since you have to prepare all the ingredients first. But it's not difficult, just a little time consuming at first.  Also, I just go ahead and use no-cook lasagna noodles. They make life very easy and I'm all for that. And once done, you can reheat the lasagna for dinner during the week, which is what I did with the leftovers.
I also decided to bake it in small individual dishes for a change. I was cleaning out my cabinets and came across a set of hand made terracotta baking dishes I had bought about 25 years ago in Bari. I use them all the time for serving olives and taralli when we have cocktails and watch the sunset. But  almost never use them to bake in, which is what they were made for.
I have a preference for white lasagna, lasagna made with besciamella sauce, and not a tomato in sight. Usually,when making this type of lasagna I don't use any cheese other than a few handfuls of grated parmesan, since the besciamella is extremely rich on its own. This time though, I had some leftover mozzarella so that went in as well. So even though this is a vegetarian dish, it is definitely on the hearty side.
And even though I made this with zucchini, have at it with any other vegetable that is in season. Roasting the vegetables first is the key here. Many vegetable based lasagnas tend to be on the soggy side, with steamed or boiled vegetables giving off way too much liquid. The roasting takes care of that nicely, while also being a pretty painless way to cook them too. So if you do try it out with another vegetable let me know, I'd love to hear how it turned out.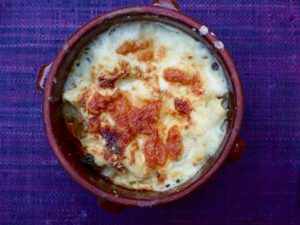 Print
zucchini lasagna
Yield 4
Note: I used four 5-inch diameter baking dishes. You could use one 10 x 10 inch dish or something similar.
Ingredients
4 medium zucchini
2 large onions
extra virgin olive oil
1 1/2 cup shredded mozzarella
1 cup grated parmesan cheese
salt, pepper
2 teaspoons thyme
1 box of no-cook lasagna noodles.
For the béchamel
1 liter/ 4 cups whole milk
100 grams/ 3.5 oz butter
75 grams/ 1/2 cup flour
Instructions
Preheat the oven to 180C/ 350 F
Line two baking sheet with parchment paper.
Slice the zucchini into 1/4 rounds. Lay on baking sheet in one layer (more or less)
Peel the onion, and cut in half. Slice into 1/4 inch slices and place on other baking sheet.
Drizzle olive oil over both onions and zucchini. Add salt, pepper and thyme to both, tossing so everything is evenly coated. Place in oven and bake until done, and beginning to brown, about 20 minutes. If your oven is uneven, you may want to switch the trays half way through. Take out and let cool to handle.
In the meantime make your besciamella:
To make the besciamella heat up the milk without letting it boil.
In a small pan melt the butter. Add the flour with a sifter, stirring so that no lumps form. Keep stirring for another five minutes to make sure the flour loses it's raw taste. Start to add the hot milk mixture, stirring all the while, to avoid lumps. Once all the liquid is incorporated, keep cooking over low heat until it is thickened, about 10 minutes. You want this sauce to be rather loose, since you will be using dried lasagna noodles.
To assemble the lasagna:
Line up your ingredients.
Ladle enough besciamella into each dish to cover the bottom. You don't need a lot, about 2 tablespoons each.
Lay a layer of noodles. These will be rectangle so you'll have to break them in half, and then use smaller pieces to fill in gaps. Don't worry about filling every gap or what it looks like. You'll want ot use about one noodle per layer.
Arrange a quarter of the zucchini in each bowl, on top .
Spoon some more besciamella on top. Then sprinkle with some grated parmesan.
Repeat with noodle layer. Top each dish with a quarter of the onions, and divide a cup of the mozzarella between the dishes. Top with a bit more parmesan and some more besciamella.
Finally top with the last layer of lasagna noodles, the rest of the besciamella, the last half cup of mozzarella and a sprinkling of parmesan.
Place in preheated oven and bake for 30 minutes, or until the top is browned and bubbly;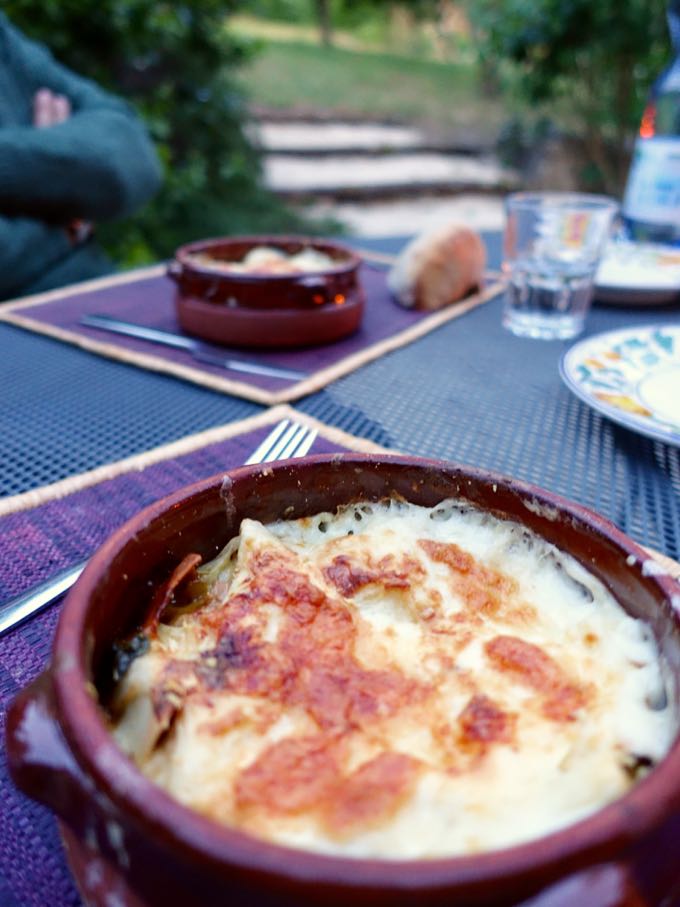 The market in Todi takes place every Monday, from 8-1pm. It is located in the parking lot of Scuola Cocchi, across from Porta Fratta, in Piazzale Gian Fabrizio degli Atti.