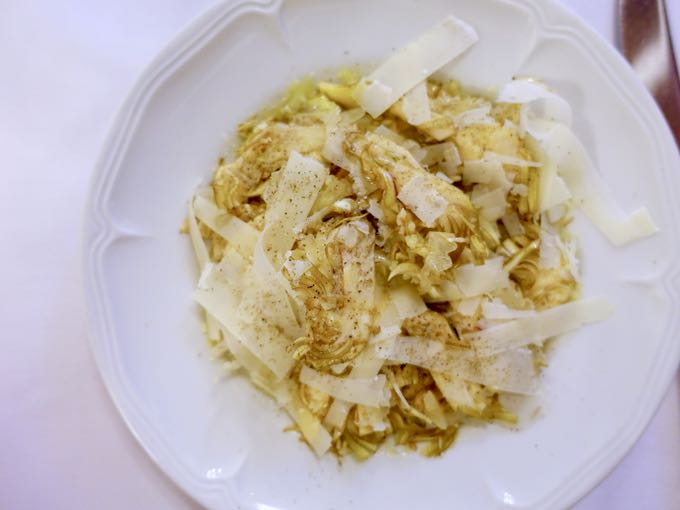 I am such a sucker for the kind of ritual and old-fashioned elegance that you find in Italian restaurants. This is a very different thing than my fondness for simple trattorias. No. I'm talking about the hushed quite that you experience when you are ushered into a true ristorante, where the waiters wear pressed white jackets and the tables are formally attired as well. My favorite time to head to these types of places is at lunch time. This is when the clientele – usually businessmen – are as serious (and timeless) as the food itself.
When I was in Milan a few weeks ago, I finally made it to Alla Collina Pistoiese. A Milanese bastion of fine food, it's been in business since 1938 and has been serving their version of Tuscan food in the center of town ever since. And is a true ristorante in every sense of the word. 
I had originally gone thinking I would indulge in one of the meaty second courses they are known for. Bistecca and tagliata fiorentina are Tuscan specialities, but they are also known for those old fashioned restauranty kinds of dishes like veal scalopine with marsala or lemon; steak tartar and dolce vita-sounding items like Filetto alla Woronoff and Robespierre con patate (who even knows what they are?)
Instead, by the time I arrived I had been eating my way a little too heartily through the city and so was craving vegetables. Luckily for me Alla Collina treat their vegetables just as seriously as their meat.  For my main course I had one of my favorite springtime dishes: Asparagus Bismark. I'm not sure where the name comes from (the same place as Woronoff and Robespierre I'm thinking) but at least I knew what it meant. A bunch of bright green asparagus, steamed, drained and topped with perfectly fried eggs. At Alla Collina Pistoiese they were nestled atop a pool of butter and grated parmesan cheese, that – with the broken and runny egg yolk – made the most luscious sauce imaginable.
But before I even got to the asparagus I had what was one of the best artichoke salads ever. I love artichokes prepared any which way, but in restaurants I rarely see salad on offer. This is because it's not an easy thing to prepare ahead of time, since the raw artichokes tend to oxidize, turning dark and affecting the delicate taste. Alla Collina eliminated any possibility of this happening by preparing the salad right there in the middle of the dining room.
At a station set up in the entrance, the maitre d' picked a perfect artichoke, trimmed it, and constructed the salad using two types of cheese, celery and a drizzle of bright green Tuscan olive oil. He also added a lot of showmanship as well as skill. Which, thankfully, I caught on film.
Ristorante Alla Collina Pistoiese
Via Amedei 1
+39.02.8645.1085
open daily, lunch and dinner
For more information on dining in Milan and Italy download my app, EAT ITALY. EAT ITALY is a free app, and contains guides to Milan, Rome, Florence and Venice (and an ever expanding list of regions and cities) available as in-app purchases for both iPhone and iPad.