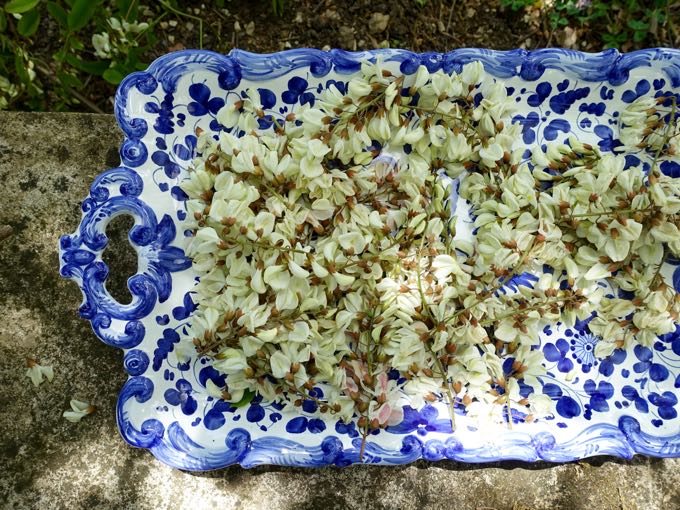 I love it when a guy brings me flowers. And when he brings a truck load of flowers? And tells me that some of them are going to be fried for lunch? Even better.
Salvatore came for lunch this past weekend in Umbria to help us celebrate May Day. While eating fave and pecorino is the traditional way to celebrate this holiday, I can't think of a better way to ring in spring than working flowers into as many dishes as possible.
Salvatore's little truck was packed with long, thorny acacia branches*. As Domenico started unloading them (getting pricked more than a few times) Salvatore explained that he would be frying them up for a first course. Next out of his bag of tricks (actually, big styrofoam boxes in which he packs his traveling show) came individual bouquets of roses from his garden for all the ladies. There was one for me, Sophie, Ruth, Gillian, Betta and even one for  Jane who wasn't there. What a guy.

The roses were obviously destined to form part of the centerpiece, and I assumed the same fate was in store for the branches full of bright green, unripe figs. "No, those are going into the frittata" declared Salvatore, as he unpacked his special frittata pan, spatula and 14 eggs. Yes. He cut them up, and treated them more or less like he did the zucchini in the last frittata he made for us. Who knew?
Along with a big bunch of chicory from his garden there was a delicately wrapped package of bright blue borage flowers. "For the salad." Of course. What's a May Day salad without flowers?
Frying the acacia blossoms was actually quite easy. Salvatore just whipped up a batter of flour, sparkling water and a pinch of salt. When it was the consistency of pancake batter, he dipped each blossom in, coating it well, and then gently transferred it to the pan of bubbling oil. He made so much batter, that we ran outside to snip a few Sambuca (elderflower) blossoms as well. Rolando, who was also at lunch, suggested frying up some wisteria blossoms as well, which he declared edible. But no one could bear to cut down the brilliant purple clusters forming the purple canopy over the table.

Frying blossoms is actually pretty easy. Just follow this recipe for Fried Zucchini Blossoms (ignoring the stuffing part) And if you'd like to see Salvatore in action, frying up a bit of spring, here you go.
* It was pointed out by one of my readers that the flowers we call Acacia in Italy are actually called Black Locust in the USA. The latin name is: Robinia pseudoacacia