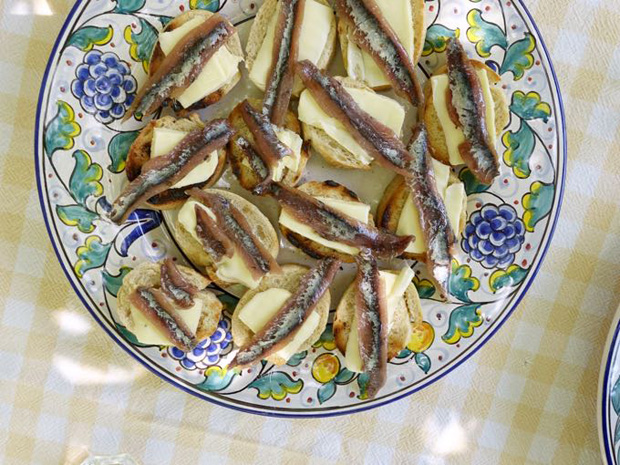 Simple often looks easy. But behind simple there is often a story that is complex, long and not so simple at all.
I was thinking about this last week when Rolando came to visit us in Todi. While Salvatore was busy picking flowers and then frying them – and making a pretty big show of it – Rolando approached his contribution to the lunch in a very different way. When Salvatore told me he was going to make fried blossoms, my first though was WOW. When Rolando told me he was going to make crostini with butter and anchovies, I thought: ok.
But I should have known better. When Rolando comes a cooking he always has some amazing ingredient in his bag of tricks. And when I say bag of tricks, I'm talking about his real bag, not his virtual one which is a food import business. Among the goodies he arrived with was a tiny jar of anchovies.
So there was Salvatore, driving up with his truck full of branches of just picked acacia blossom. And then there was Rolando, setting his little fish-filled jar on the counter.
But there are anchovies, and then there are anchovies. As it turn out that tiny jar was jam packed with the best anchovies I've tasted in a long time. These were not the run-of-the-mill fishies that I usually pick up at the supermarket. Instead, these babies had been cured under sea salt, whole, for 12 months, before being carefully cleaned off and boned by hand. The delicate pink fillets are then laid on crisp linen cloths that help absorb the brine. After this they are carefully packed, by hand, into small jars and covered in olive oil.
And brought to my house by Rolando, who had been visiting with the producers in Cetara the previous week. "See" he said, as he reached his long fingers (Rolando is like 8 feet tall) into the jar to free each fillet,  "You can still see the pattern that the linen leaves on the skin."
So while Salvatore was doing his frying dance, Rolando quietly and carefully toasted some bread over the gas flame, cut chunks of butter to top each slice, and gently placed one plump, pink filet to top of each crostini.
Simply fantastic. Each little fillet was meaty and firm, and while they were definitely fishy tasting, they were not the usual salt bomb you expect in an anchovy. They actually still tasted of the sea they came from. And the cold chunky pat of butter only helped focus the briny flavor. Simple, maybe, but also about as sophisticated as you can get.
Rolando also brought along a bottle of aged colatura. I'm including photographs of the pasta he whipped up as well. For a similar recipe see my post on using colatura. Just leave out the zucchini and do as Rolando did: Add a handful of toasted almond slivers at the end before serving.
Print
Crostini with Anchovies
This is barely a recipe, but there are two important points to keep in mind: This recipe requires great anchovies. Also? Wait for the bread to cool before placing the butter on top.
Ingredients
1 baguette type loaf of bread
1 jar of high quality, olive oil packed, anchovies
Good quality unsalted butter
Instructions
Slice the baguette into half inch slices and toast (over a flame if possible)
Let the crostini cool off.
Cut the cold butter into 1/8 inch slices and place on top of cooled bread, using enough to cover.
Lay one anchovy on top of each, letting it flop over the sides.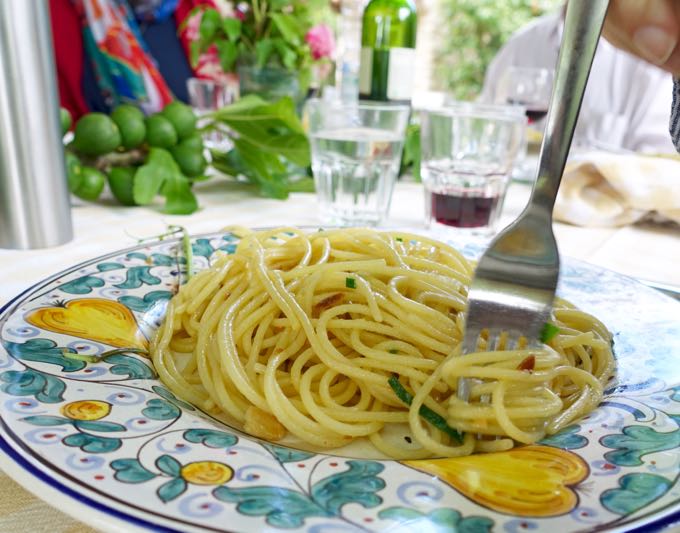 You can order the anchovies  and the colatura online from MarketHall, who carries many of the brands that Rolando's company, Manicaretti, imports.