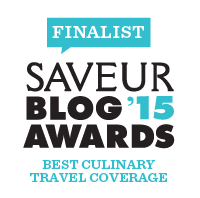 Thank you so so much for nominating me for the Saveur Blog Awards 2015. All of your votes must have added up since I found out that I am one of the finalists. So, first and foremost:  Thank you!!!!! And secondly: Yay!!!!

I'm in the category of Best Culinary Travel Blog and am honored and humbled to be in such great company.

Now, of course, I need to ask you one more favor. Since you've already nominated me, I'm hoping that now you'll head back to the Saveur Website to vote for me.
Just head here.
And then click the button by my name in the Best Culinary Travel Blog Category.

I have lots of friends nominated in other categories as well, so if you can vote for them too, while you're there, that would be great!
But one of the very best things about this competition is the chance to discover new blogs. So really do have a look at some of the other ones, in all the categories. That's what I've been doing for the last few hours and I tell you , there is some beautiful writing, photography, video and cooking going on out there.
Just in case you missed it above, here is the link: vote for your favorite blogs
Grazie!!
(and sorry for the over abundance of exclamation points in this blog post. But, well, I'm excited)