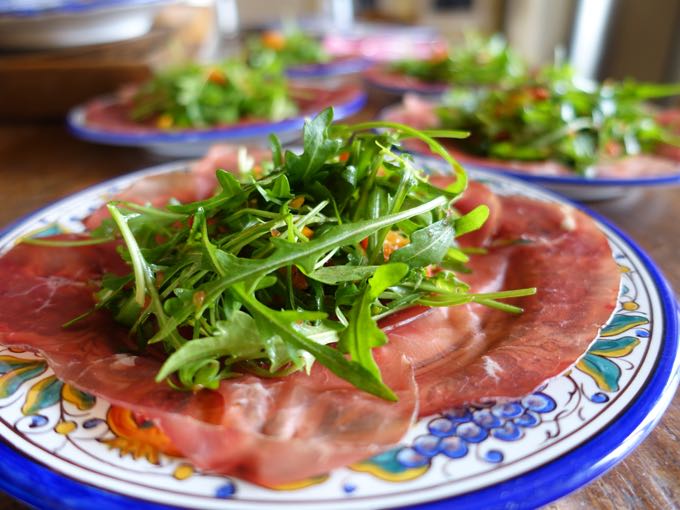 Sometimes you just want easy. It could be that the rest of your meal is pretty complicated and so you need a first course that you can pull together in a minute or two? Or maybe you've invited some friends over for lunch, but realize that while you want to offer something pretty and delicious, you also don't want to spend your morning in the kitchen?
So today I'm sharing one of my standby, favorite, quick-and-easy, but still beautiful-and-delicious recipes: Bresaola and arugula.  While I've used it countless times in the above circumstances, really, it comes in handy no matter what time of year or what type of menu or occasion.
Even though I usually bang on and on about my haul from the farmers market, or picking up cheese or cured meats directly from their source, sometimes it's a quick run to the supermarket for me too. This past weekend, when we were up at my friend Laura's house, we needed an emergency first course for lunch on Saturday. Although we already had a delicious lasagna all ready to go, two extra last minute guests (that would be Sophie and her friend Jasmine) decided to join us. No problem. A ten minute drive to the supermarket and a 1/4 pound of bresaola and a bag of pre-washed arugula later, and we were good to go.
Yes. I bought a bag of pre-washed lettuce. I told you this dish was about ease.
I make a version of this salad a lot. Sometimes it's cured pork that plays the supporting role, and various types of salads get piled on top. But my favorite is this combo, which pairs the lean, beefy taste of bresaola with the slightly peppery bite of arugula. Seasonality does play a role, since I usually use some sort of fruit as well. This time a few blood oranges brought on the acidity and sweetness at the same time.
As with all things simple, a pretty plate always helps.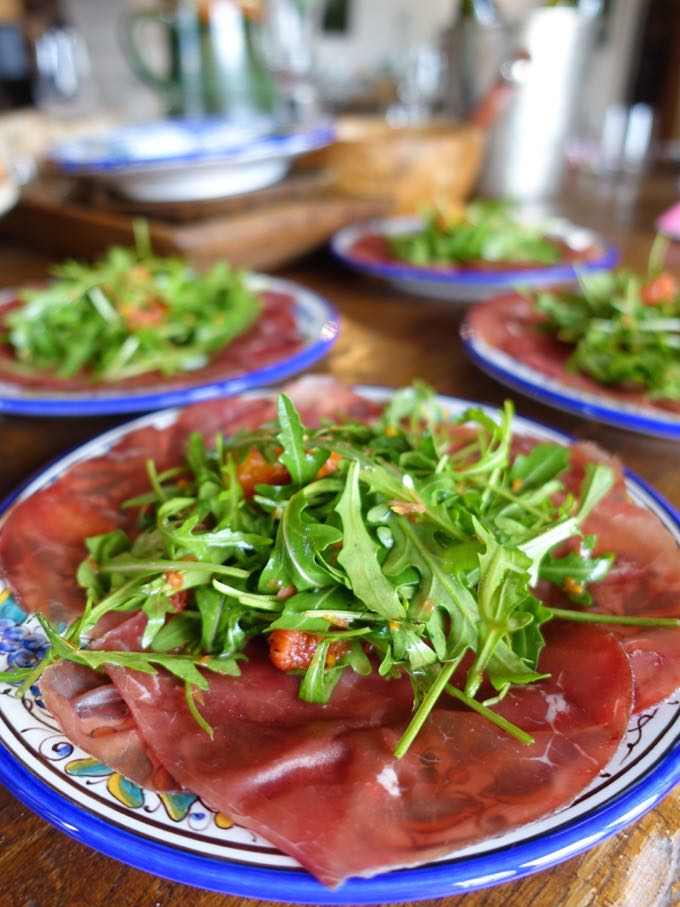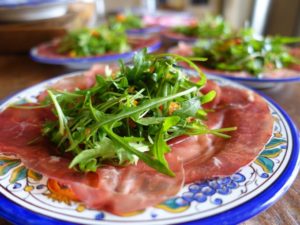 Print
bresaola + arugula
Yield 4
Ingredients
1/2 pound / 300 grams sliced bresaola
1 bag of pre-washed arugula
2 blood oranges
3 tablespoons extra virgin olive oil
1 tsp dijon mustard
juice of half lemon
salt, pepper
Instructions
Divide the bresaola onto four small plates, laying it out in a single layer.
Put the arugula into a salad bowl.
In a small bowl whisk together the mustard and olive oil until it emulsifies (add the oil slowly) Add the lemon juice, and grate in the zest from one of the oranges.
Using a sharp knife, cut off both ends of each orange. Using the knife, cut off the peel, as well as all the zest. Cut the oranges into cubes and place in the bowl with the arugula. Add the orange cubes and toss with the dressing.
Distribute the salad atop the bresaola and serve.
Notes
Assemble this dish right before you serve it, otherwise the bresaola, which is very lean, will dry out.