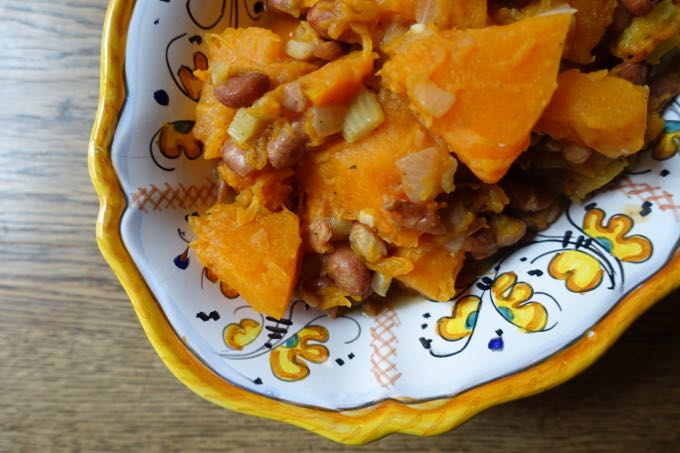 I love pumpkin as much as anyone. I love the color, I love the taste, and I love the shapes and sizes they come in. I put it in pasta, in risottos and soups. I love it stuffed into ravioli and can't get enough of hearty pumpkin gnudi.
But I have a confession to make. After a few months of pumpkin there is one thing I get a bit tired of. It's that mush factor. By the end of January I'm more into the cruciferous end of things. Veggies that have texture, bite and even a little crunch to them.
And so last weekend at the farmer's market I filled up my basket with broccoli, cauliflower and about a half dozen big bulbs of crisp fennel. But there were the pumpkins (well, not pumpkins, but another type of winter squash) looking so orange and pretty. They were screaming at me to buy just a slice. And so I did, thinking at the very least I could cut it up and throw it into the minestrone I had planned. Yes, the cubes would probably turn into mush by the time the rest of the soup cooked, but whatever.
As Assunta was cutting off my hunk-o-pumpkin I decided to ask her how she cooked this up. "With beans," she replied, as if this was what all normal people did. "Go on," I implored. And she proceeded to outline this simple, but delicious recipe.
As she talked, she was also cutting. She took my hunk of squash and using her little knife cut off a few pieces, to show me how she cuts the pumpkin for this dish. Each piece was a completely different size and shape, not regular a all. When I asked her why, she replied, "That way they cook unevenly, and don't just turn into a big mush."
Pumpkin dilemma solved. Thank you Assunta.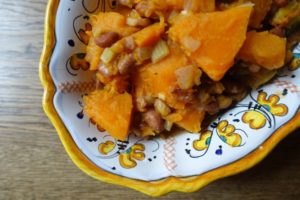 Print
pumpkin + beans
Yield 4 -6
I"m pretty sure the type of squash that I bought from Assunta is called Zucca Lunga (or Piena) di Napoli. It's a very firm fleshed squash, with a bright orange color and on the sweet side. I'm sure this would work with butternut. Beans: I used cranberry beans from our garden that we'd dried this past summer. Try to use dried beans for this dish, since they taste so much better. In this case, you have to soak and then cook the beans first. Assunta didn't mention sage, but sage is always a good idea when it comes to beans and pumpkin.
Ingredients
1 kilo / 2 pounds pumpkin
1 medium onion, chopped
3 cloves garlic, chopped
4 stalks celery, chopped
6 fresh sage leaves, roughly chopped.
2 cups cooked beans
4 tablespoons olive oil
1 tsp salt
1/2 tsp black pepper
Instructions
Cut the pumpkin into irregular pieces. Assunta cut them into little half moon, which I tried to emulate. What you're aiming for is lots of different shapes and sizes, but they should all be about 1 to 1 and a half inches big. Eliminate the skin.
Heat a saute pan big enough to hold everything over medium heat. Add the olive oil. Once hot,add the onions and celery. Add salt and pepper and stir. Let cook until the vegetables are softened, about 12 minutes or so. Don't let it brown.
Add the garlic and sage and let cook another five minutes.
Add the pumpkin, stir and add about a cup of water. Continue cooking, adding a bit more water if necessary, until the pumpkin is almost cooked. Remember, you aren't looking for mush here. You still want the pumpkin to have some bite to it, which you're probably not used to. Think of it more like zucchini than pumpkin. This should take about 25 minutes or so.
When it's about 10 minutes away from being done, add the beans and stir. You can add a bit more water and let it simmer away. The point here is to meld the flavors a bit.
This is great as a side dish, but is hearty enough to form the main part of a vegetarian meal.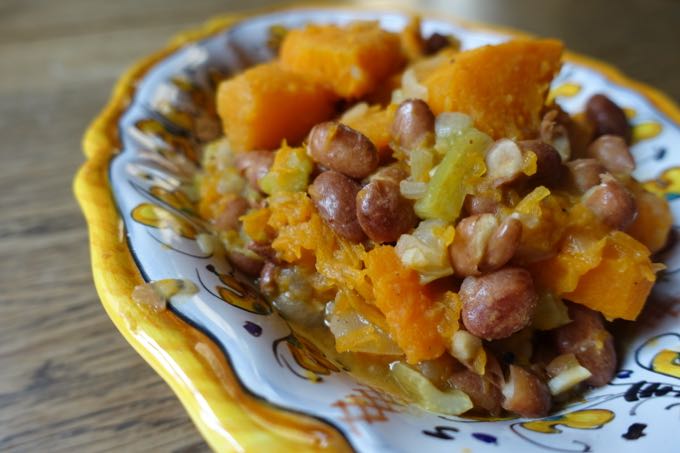 Assunta and her husband Giovanni Bernabei are at the small organic farmer's market at the Citta dell'Altra Economia the 1st and 3rd Sunday of every month. (Largo Dino Frisullo, in the Mattatoio in Testaccio)
The cute little dish is one of my favorites from Sberna.
link