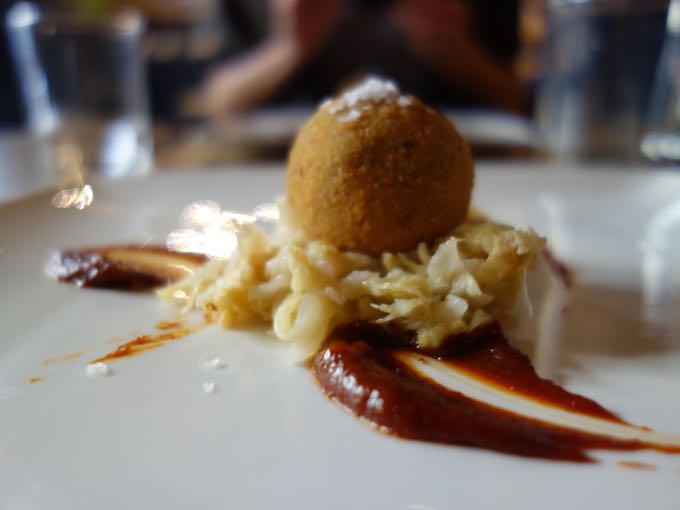 Almost from the first night it opened in 2013, this pocket-size restaurant has become one of the most difficult tables in town to book. In a male-dominated industry, 25-year-old chef Alba Esteve Ruiz, formerly chef of appetizers at Spain's celebrated El Celler de Can Roca, created something rather out of the ordinary. With only a couple of dozen seats, the dining room opened to a glassed-in kitchen where Ruiz worked her magic. What drew loyal fans was the pairing of inventive and sophisticated cooking normally found only at Michelin-starred restaurants with an affordable fixed-price menu in a relaxed and informal setting.
After a year of non-stop success, Marzapane closed for a month this past summer, expanding into the space next door. The result is that the dining room is now even more laid back and comfortable. Rather than try to pack in many more tables (which they easily could have) the number of covers only increased by about 10. What there is more of is space.  A lovely round table is located in the central area, with a front row seat of the newly relocated kitchen. The front room, flooded with light during the day, is a muffled palette of muted earth tones, all softly lit, contributing a serene and completely tranquil mood.
Another thing that hasn't changed is that the menu still remains one of the best bargains in town, especially the tasting menus. There are a few different tasting menus (fish, meat, mixed ) each one costing between 30 and 35 euros for 5 courses. Each course is tasting sized, so it's not too much food. And i f you want to go for broke, there is the  8 course Chef's Menu, priced at 55 Euros , if possible even more of a bargain.
My friend Maria and I went there a few weeks ago, and had the Meat Tasting Menu (each table has to have the same menu). I know we had an amuse bouche to begin, but I was so caught up in catching up with Maria, that I not only forgot to take a photo, I completely forgot what it was. That's what happens when you have lunch with a girlfriend.
But don't worry, I was paying close attention for the rest of the meal. The appetizer was a boiled beef meatball, served on a bed of braised cabbage, with a dollop of sweet and spicy barbecue sauce. Lightly pan fried, it was coated with a crispy layer of breadcrumbs.
Our primo was Ruiz's famous Carbonara 2013. All chefs in Rome these days have to come up with their own take on the classics. Ruiz's version is perfection. Extremely eggy, almost bordering on soupy, but with such good eggyness going on, we were both scooping up everything last bit
Our main course was  tidy little packet of roast suckling pig, complete with crackling. Served with a bit of roasted eggplant and a small wedge of 'pork butter,' which I guess was meant to be spread on bread, but which I willingly ate up with my spoon.
Dessert was a creamy Spanish custard, served with vanilla cream and a bit of crispy almond confection.
While the food was outstanding and the prices beyond reasonable, I can't stress enough what a completely comfortable and relaxing place this is to hang out in. We felt so at home that we kind of didn't want to get up and leave. It was only when we realized that we were the only ones left, that we felt obliged to gather our things and decamp. When i don't want to leave a restaurant? That's my kind of place.
Marzapane
Via Velletri 39
+39.06.647.81692
Monday to Sunday, lunch and dinner
Closed Wednesday.
For more on dining in Rome, download my app, Eat Italy, available on iTunes.