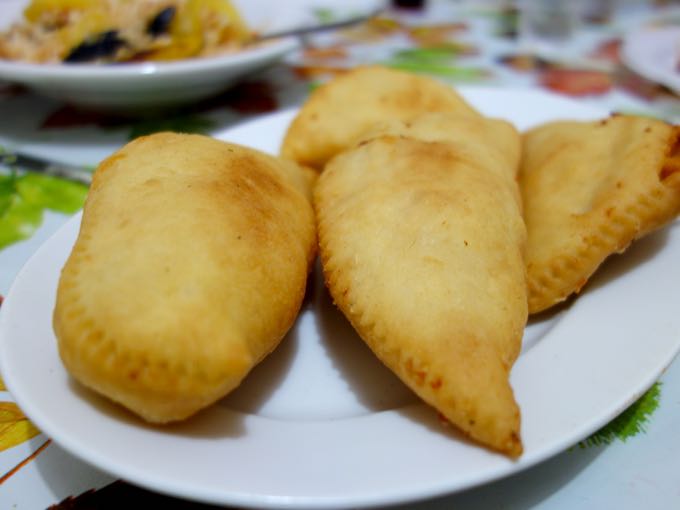 There are a lot of things here in Italy that I never bother to make at home because they are just so mucy easier to buy in stores. Pizza Bianca is one of those here in Rome. And so is fresh pasta. While I could make them in my own kitchen, I'd rather spend my time making things that either I can make better at home, or that just aren't available around town.
Even though we can't find them in Rome, one thing that I had never ever considered making at home were panzerotti. These are little stuffed and fried savory pies that we fill up on every time we are in Bari. They are a speciality of Puglia and since they are not available in Rome it's one of the things we look forward to when we head down south to visit Domenico's family.
Why don't I make them at home in Rome? I guess I always assumed they were just too fussy/difficult to deal with. Making the dough, stuffing it and then the biggest obstacle: frying them. I mean really, do you fry at home if you don't have to?
During our trip down to Bari last weekend I had the chance to watch a master panzerotti maker in action. Domenico and I headed to Barivecchia (the old part of town) to buy some orecchiette to bring back to Rome with us. While chatting with my preferred lady, la signora Nunzia, she kindly offered us a panzerotto, which had been freshly fried. I told her how I admired her skill, and admitted my fear of ever trying it at home.
"Come back tomorrow morning" she said, "I'll show you how it's done. It's easy! And it's important we keep these traditions alive."
So here is Nunzia's entire family, making panzerotti in their home in Barivecchia And they do make it look pretty easy. So easy, in fact, that I think I'm going to try making them myself over the holidays. Because, well, you know, we have to keep the traditions alive, right?
Print
panzerotti
Other traditional fillings include broccoli rabe, slowly cooked onions or meat.
Ingredients
1 kilo / 2 pounds flour
25 grams yeast (fresh beer yeast)
400 ml warm water
1 tsp salt
1 tsp sugar
mozzarella
peeled tomato pulp
ricotta forte
oil for frying
Instructions
Shred the mozzarella into small pieces and put in a bowl. Add the cut up tomatoes and mix with your hand. Let it sit for an hour, then drain well so that it is dry.
Place the flour on a board. Make a well in the center and crumble in the yeast. Add the salt, sugar and water to the well, and mix in the yeast until it has dissolved.
Slowly work in the flour until it is completely mixed. Knead for about 10 minutes.
Place the dough in a warm spot (at Nunzia's they place it in a bag and then under a wool blanket) for about an hour.
To assemble and fry: watch the video above.