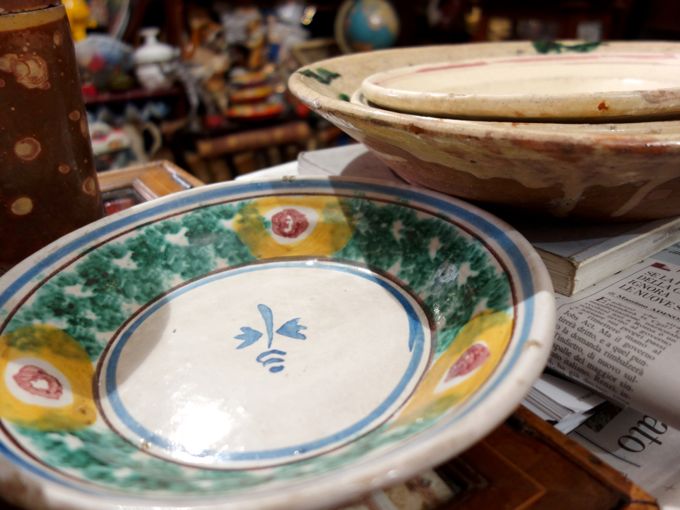 I know I go on and on about ceramics.  If you follow this blog then you know I've got a serious addiction thing going on. The only thing stopping me from indulging (besides cost, that is) is space.  Unless I start buying new cupboards to store them in, I can't fit one more plate/cut/bowl/platter in my life.
My good intentions were sorely tried two weeks ago when we were in Puglia. While I was able to assuage my cravings while in Cutrofiano by buying a half dozen tiny bowls that will make great gifts for my friends, I was almost brought to tears when we happened upon a trove of absolutely gorgeous antique plates and jugs.
There I was, in Ostuni, walking along innocently, minding my own business when a ray of sunlight caught my eye. And there is was: a perfectly spattered, just-chipped-enough-to-be-interesting, rustic pitcher, posing in a pool of light, on top of  about a half a dozen equally patina-speckled plates and bowls.
Assuming this store must have their best ware displayed in the sun-filled window I expected nothing as I stepped inside. Much to my dismay the tiny shop  was jammed to the rafters with the ceramics of my dreams. Piles and piles of tiles, jugs, bowls and plates, all rustically painted and worn down with usage and decades of love.
I was strong. I did not succumb. First of all because we were taking the train back and there was only so much I could carry. Second of all because I sort of shopped vicariously through my friends Martha and Dena who both did some serious damage despite the fact they had to pack it and get it back to the States. And finally? My real reason for not buying anything? I promised myself I would be back.