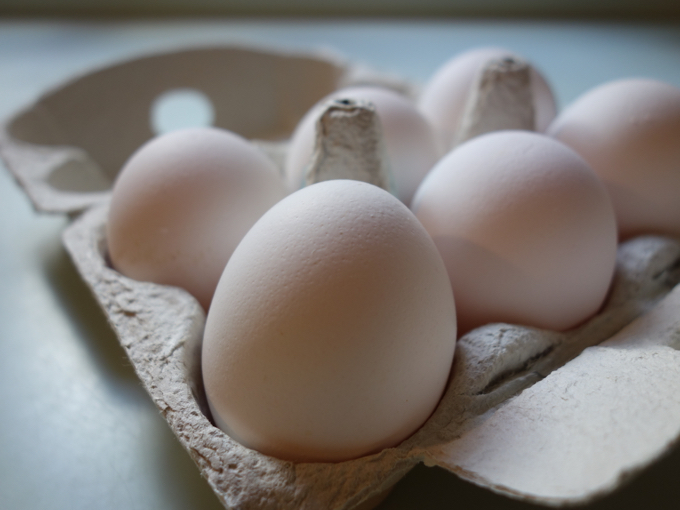 Even though I've written about making carbonara in the past, it's such a fundamental part of my life – and Roman cooking – that I think you'll bear with me if I post about one of my all time favorite dishes one more time.
Carbonara is one of those iconic dishes that are seemingly simple, but in reality so easy to mess up. In a dish this minimal, it's essential to get your hands on the best ingredients possible. I was thinking about this last weekend as I wandered through the farmer's market, wondering what to make for Sunday lunch. As I strolled past my egg vendor I found my inspiration.
Not only does this vendor have the most incredible eggs with the most luscious, rich yolks, he uses those same eggs to make fresh pasta. Since carbonara is all about the eggs, and raw ones at that, it really only makes sense to attempt this dish when you are not only sure of the eggs' freshness, but also of the quality. These eggs, from the Livornesi chicken breed, are known for their unctuous thick yellow yolks, full of flavor. Great in Carbonara, and great for making fresh pasta. (which, thankfully, the egg guy did for me)
My next stop was at my pork guy. While I'd usually use guanciale, cured pork jowl, for this dish, I got lazy and bought a small pack of pancetta that he had cut just that morning. While I would never think of buying pre-cut pancetta in the supermarket, I'm fine with my butcher making my life a bit easier by doing my chopping.
And finally, a chat with my cheese guy. Together we chose a pecorino that was sharp enough and aged enough to be grated and then to melt well into the final dish to form a rich and creamy, but pungent, foil to the eggs and pork.
Getting the ingredients is, however, only half the battle. Making carbonara correctly also involves technique. When and how to mix things up is the key. So to make things easier, and so that there are no excuses, I've made a short video.
Enjoy!
Farmer's Market:
Mercato di Campagna Amica del Circo Massimo
Via di San Teodoro 74
Open Saturday, 9-6, Sunday 9-4