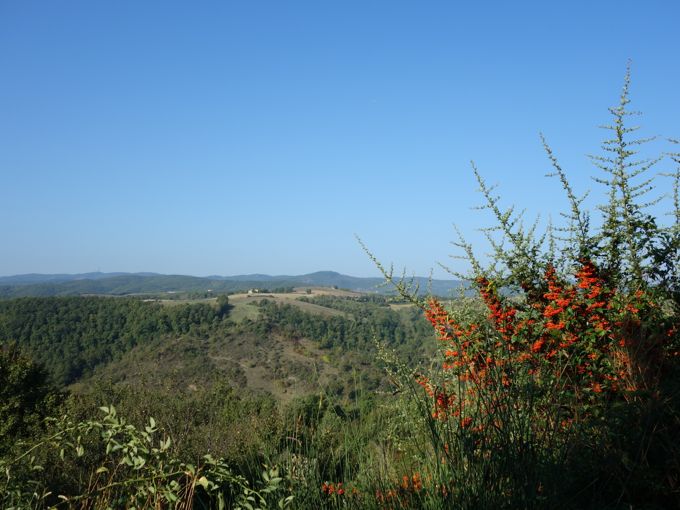 I think my favorite season may be Fall. While I love summer, and going to the beach and general laziness that happens in an Italian August, I much prefer the crisp cool days of Fall and the renewed enthusiasm I bring back to my work after a a break.
I'm always full of new ideas and want to start a million projects this time of year. Currently on my plate? I'm just about done with my next book proposal (very excited!); am working on a completely new and improved version of my apps; and have finally – after meaning to do so for a long time – started a monthly newsletter. (Please sign up for it on the right!)
The other thing I really love about this time of year are the colors. The oranges and yellows, both in the landscape and on my plate. I'm a sucker for a pretty gourd , pumpkin or squash.
This past weekend we were up at my friends Laura's  house, helping her out with the grape harvest.  I never know what to bring Laura as a hostess gift. Not only does she already have everything, what she doesn't already have she makes. She is a very busy canner, and her pantry is full of things like quince jam, homemade ketchup and pickles, and beautiful tiny stuffed peppers. So even though  she always has all the meals planned out, I usually end up bringing all the ingredients to prepare at least a couple of dishes as a gift of sorts.
This time I came with two beautiful butternut squashes I had picked up at the market. I figured that even if we didn't end up eating them, they would always look lovely on her kitchen island. Laura was very happy to have them, but – I think – even happier when I cooked them up for Sunday lunch.
The main course was  barbecued ribs (with Laura's home made barbecue sauce made with home made ketchup of course) so a side of earthy roasted squash seemed like a good idea. I sliced them, and popped them in the oven, slathered with a thick layer of sage pesto.
I've become a convert to sage pesto ever since I first ate it in Sicily this past summer. And now that the summer – and basil – have finally come to an end I figure it's the perfect excuse to put it on just about everything. Pasta for sure, but now I'm thinking that butternut squash is going to be just the first in a long line of sage pesto roasted vegetables this fall. Potatoes, carrots even cauliflower are going to get the sage pesto makeover.
One more reason to love Fall.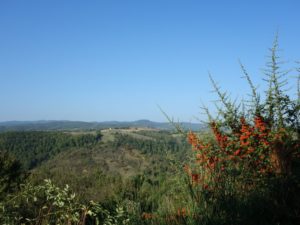 Print
roasted butternut squash + sage pesto
Yield 6
Ingredients
2 butternut squashes
1 big bunch of sage
3 cloves garlic
1/3 cup olive oil
1/2 tsp salt
1/4 cup pine nuts
Instructions
Preheat the oven to 200C/400 F
Slice the squash into 1/2 slices and peel and take out any seeds. Lay them in a single layer on a baking sheet lined with parchment.
To prepare the pesto put the sage leaves, garlic, pine nuts, salt and olive oil in a mini blender. Process until smooth.
Using your hands, coat the squash slices and then sprinkle with a bit more salt.
Roast until tender, about 1/2 hour.