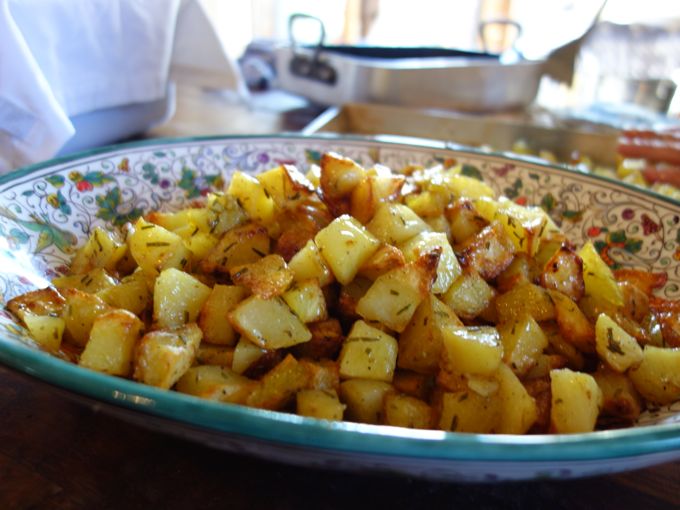 When I was up at Laura's house last weekend I made a discovery. I always suspected that Paola, the fantastically talented woman who cooks for her, had a few tricks up her sleeve that made everything she cooked so delicious. Yes, I realized that she went to great efforts to get the best ingredients. And she probably uses more salt and oil than I am used to using, which doesn't hurt either
But last weekend I finally realized that one of her secret weapons is having a big cup full of rosemary infused oil that she slathers on almost everything. Whatever she cooks, that cup of bright green liquid was always near to hand.
In the past, when I had hung out in Laura's kitchen,  I hadn't realized what it was. I thought, mistakenly, that it was simply an especially bright green batch of olive oil. But this past weekend I actually saw Paola whipping up a batch. She poured about a cup of olive oil into a big quart measuring cup. Then she disappeared out the door to the garden, coming back in a few minutes later with a handful of freshly picked rosemary branches. She stripped off the leaves directly into the cup, along with a few cloves of peeled garlic. And then whizzed the whole thing up for about 15 seconds with an immersible blender.
And then left it there, while she got along with the rest of the lunch. Preparing the goose (a bit of the oil there), making the ragu (used that oil to start the soffrito) , and making an apple cake, (the only exception to the rule). Finally, a few hours later, when it came time to prepare the roast potatoes the oil came into play big time. By now the roughly chopped garlic and rosemary had let lose their oils and the simple olive oil had become a thing of beauty. All she had to do at this point was pour it over the potatoes and pop it in the oven.
Now I felt completely stupid. For all these years, through hundreds of meals featuring roast potatoes, I'd been doing it all wrong. Coating the potatoes with olive oil, then scattering the chopped rosemary on top, mixing it in. The rosemary always ended up getting kind of burnt (which wasn't bad, but wasn't great either). I could never capture that fresh green rosemary taste I was after.
My potatoes, of course, were never as good as Paola's. And now I knew why.
I had discovered her secret weapon.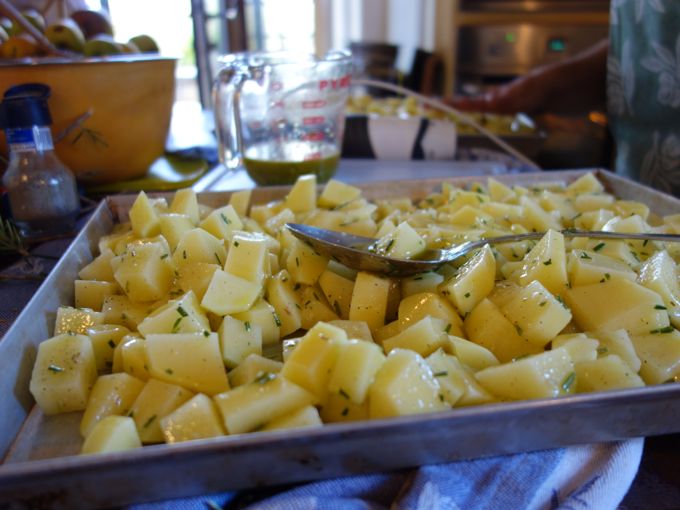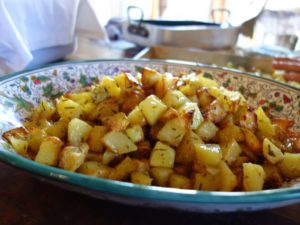 Print
roast potatoes + rosemary
Yield 4 -6
Ingredients
1 kilo / 2 pounds potatoes
1/2 cup extra virgin olive oil
6 sprigs of fresh rosemary
2 cloves garlic
salt
Instructions
About an hour (or more if possible) before you are going cook the potatoes, strip the leaves of the rosemary into the olive oil. Add the two peeled cloves of garlic, and with an immersible blender, whizz it about 10 to 15 seconds. You don't want to puree it, just chop up everything roughly. Let sit for at least an hour at room temperature.
Preheat oven to 350F/ 180 C.
Peel and chop the potatoes into 1 inch pieces.
Place them in a bowl, and toss with the rosemary olive oil.
Lay them out on top of a parchment lined oven tray, in a single layer. You may have to use two trays. Salt liberally. More salt than you think you should. Potatoes really soak it up. Toss again to distribute the salt.
Place in preheated oven and bake until golden, about 45 minutes.
Serve immediately.