This past weekend I went to Sardinia for the first time. I know it seems surprising that I've never been, but, well, I guess I've been busy the last 20 years or so. I always meant to go, but somehow just never got around to it.
The occasion of this visit was the followoing invitation: Come to the Porto Cervo Food Festival. I figured that anything having to do with Sardinia and food would be worth the trip.
I have to admit that I wasn't 100% prepared for Porto Cervo. I knew it was the playground of the rich and famous. This stretch of coast, on the northern tip of the island,  is called the Costa Smeralda and was developed in the 1950's and '60's by Prince Aga Khan. So the town of Porto Cervo was basically built from scratch, to be the hub to some of the most expensive hotels in the world, as well as ports where one could park a mega yacht if one had one. And, I guess, many do.
All to say the town was not the rustic hill town or colorful sea side village I had imagined would be my first glimpse of Sardinia. If I wanted a Gucci bag or a pair of Prada sandals I was all set. If I tell you their were constantly two armed guards stationed outside of the hotel's jewelry shop you can being to understand what kind of place this is. The event I was visiting was the Porto Cervo Food Festival, a yearly happening now in it's sixth edition. It's both a way for the hotels to extend the summer season into September, as well as promote traditional Sardinian food. There were cooking classes (more on that later) and cooking demonstrations, as well as producers of things like sheep prosciutto (who knew?), wild cardoon pate and mirto flavored everything.
I learned a lot while I was there. But one of the main things I learned that Sardinians are a taciturn bunch. This is not a bad thing, but it does make it challenging when you are visiting a food fair or a restaurant and the vendors, producers or chefs don't have much interest in telling you about their products. (I still am not so clear on the history of cured lamb).
One of the things I found most fascinating about my trip was the number of completely new pasta shapes I discovered. Over the course of the two days I spent there I was able to eat my way through about four types of pasta, and learn about a few more on top of that. And one of the highlights of the trip was the chance to see the making of filindeu, a type of hand stretched noodle that is only made in the small village of Nuoro. (Luckily this was a demonstration, so no words were involved. )
Filindeu, as you can see from the video below, is made by continuously pulling the pasta dough until it forms thin strands. These are then laid on a round disk, in three layers, and dried in the sun. The crisp, thin noodles are then broken up and added to lamb broth to celebrate the feast day of San Francesco.
The other dishes I had were the intricately braided lorighittas, which were served with a sauce made of bottarga, cardoons and dried tomatoes (and, I am pretty sure, a totally untraditional pour of heavy cream); fregola with seafood and bottarga and teeny tiny cicioneddos made with a pesto of olives and tuna.
After this trip I pretty much decided everything tastes better with bottarga on it.
The only recipe I was able to come away with was the pesto, which was given to me by chef Luigi Pomata. He served it with cicioneddos which, as far as I can tell, are the miniature version of the more commonly known as malloreddus.
But I was also able to make a short film showing you the amazing skill involved in making filindeu. I added the soundtrack because, well, there were no words were said. Or needed, actually.
Lorighittas pasta with bottarga, cardoons and dried tomatoes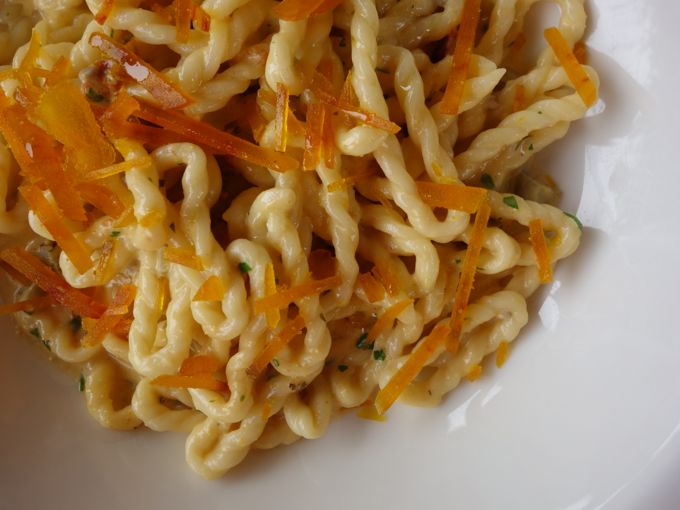 Fregola with bottarga, clams and baby artichokes.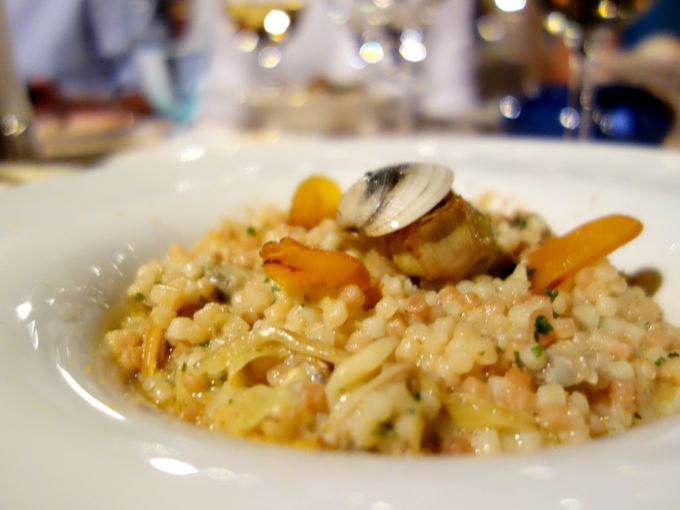 Cicioneddos with Olive and Tuna Pesto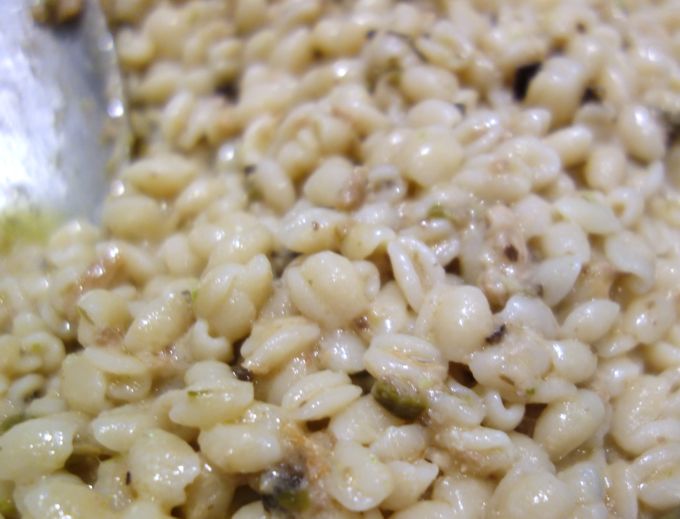 Filindeu pasta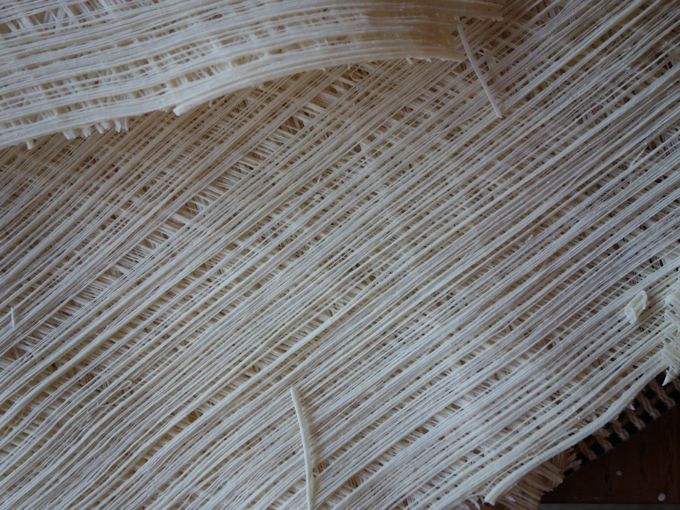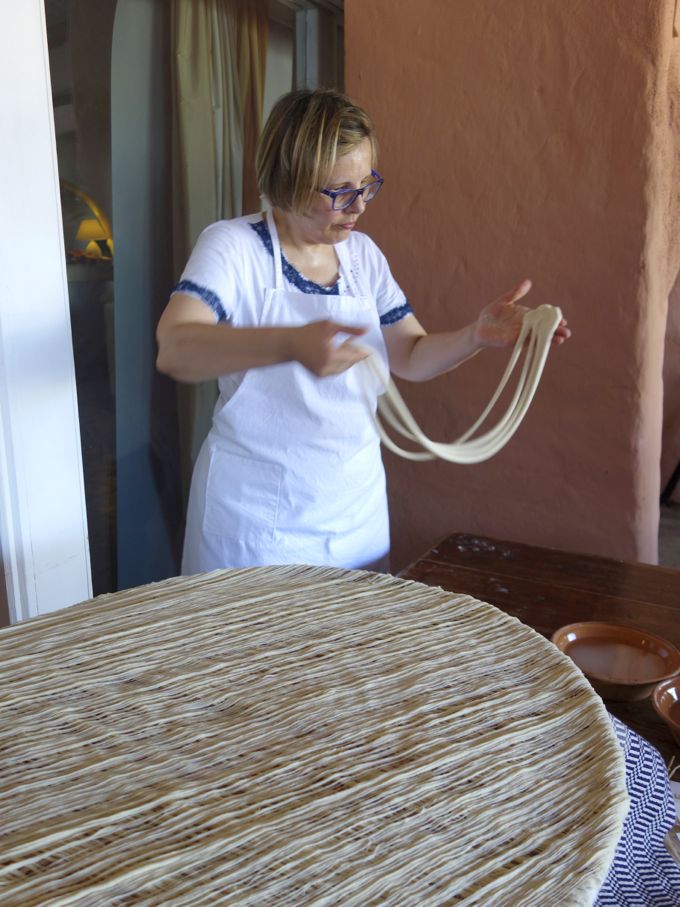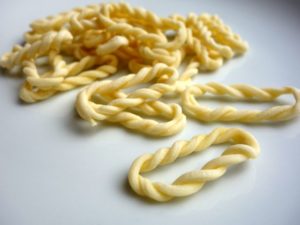 Print
pasta with olive and tuna pesto
Yield 4
I had this pesto served on top of a small Sardinian pasta called cicioneddos, which is a form of malloreddus. Any sort of compact, handmade pasta would be fine. Even orecchiette.
Ingredients
400 grams cicioneddos (or malloreddus)
70 grams fresh pecorino sardo, grated.
grated rind of one lemon
80 grams / 1/3 cup green olives, pitted
80 grams / 1/3 cup black olives, pitted
50 grams / 1/4 cup capers
75 grams / 5 tablespoons butter
75 grams / 5 tablespoons olive oil
150 grams good quality tuna, packed in olive oil
Instructions
Roughly chop the olives and the capers. Melt the butter and add the olive oil. Mix the fats with the chopped ingredients, along with the tuna.
Cook the pasta in boiled, salted water. When done, drain, and toss with the pesto, adding the lemon rind and the grated cheese.
I attended the Porto Cervo Food Festival as the guest of  Starwood Hotel and Resorts, who manage the Cervo Hotel where I stayed (as well as the three other properties nearby: Cala di Volpe, Pitrizza and Romanzzino). The entire weekend, including meals at Pomodoro, La Pergola, Il Pescatore and Pitrizza Restaurant were paid for by them.
Since I'm sure many of you will write to ask me where to get these pasta shapes, here are a couple of sources for fregola and malloreddus (the closest I could find to cicioneddos) at Amazon.
This Italian site says they will deliver Lorighittas to your door. 
And if you would like to buy some filindeu, I'm afraid you're going to have to visit Sardinia. There is a festival that goes on in the fall, Autunno in Barbagia, which focusses on the small hill towns of the wonderful and wild Barbargia region, where food products like filindeu are still made by hand. I'm hoping to get back there in the next month or so.