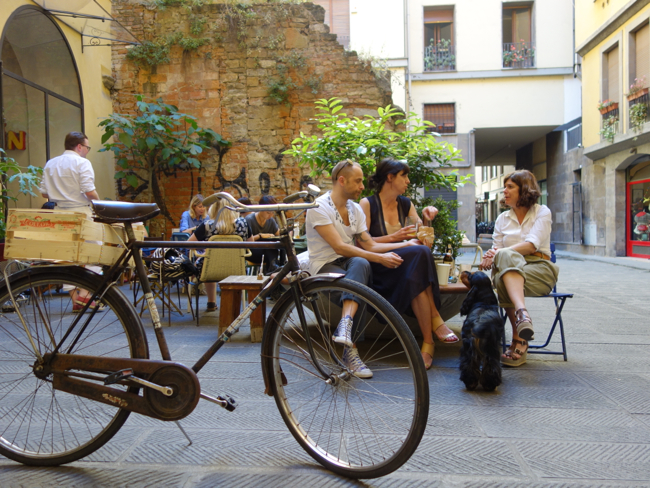 I'm always on the look out for a good neighborhood bar. The perfect one has plenty of cozy, comfortable seating – both inside and out. It goes without saying that I want well made cocktails, right? But good nibbles are also a deal breaker. And if everything could be well designed without looking as if it's trying too hard, then I think I'd pretty much go there every chance I got.
The good news is that I finally found a place that meets my criteria. The bad thing? It's not in my neighborhood. In fact, it's not even in Rome.
Even though Amblé opened in April, in Florence, I only recently discovered it. I came across it while I was wandering around the newly opened Mercato Centrale. One of the most charming stands there sells one thing, and one thing only: extremely well made tramezzini. While chatting with the striped shirted fellow behind the counter, I found out that magnificent little panini had their real home in a cocktail bar not far from Ponte Vecchio.
Since I pride myself at knowing Florence pretty well, especially the area around the Ponte Vecchio (which I tend to avoid), I asked him to explain to me three times exactly where it was. As far as I could figure out it was in a tiny, hidden piazza squeezed in between the rear entrances to a couple of bigger hotels. In other words, down an alley that I had assumed lead to a dumpster or something other than what I eventually found: probably the cutest, most charming little square in that part of town.
The area around the Ponte Vecchio is not long on charm. Although the Ponte Vecchio was spared bombing during the war, the area around it was flattened, and so most of the buildings are brand spanking new. Plus? These days it's where you can find the highest concentration of tourists per square inch in all of Italy.
But Amblé has situated itself in what has got t0 be one of the quietest squares in town. No tourist would ever think of wandering down this alley. And although most of the buildings around it are new, the little bar is situated right up against a portion of one of the few remaining ancient brick walls to survive the war. With a fig tree taking root, and other vines creeping up , it makes the perfect background to this hip, relaxed and delicious place.
I was there in early June and so sat outside. Tramezzini are the thing here and the original reason they opened. The bread is specially baked, and a mixture of grains to make this Venetian sandwich completely original. Choose your own mixture of ingredients to have one specially made for you or go with the daily specials.
The evening I was there I decided it was cocktail time (it's always cocktail time somewhere, right?) and so had a perfect minty Mojito. But what I truly fell in love with were the nibbles that came with. At first I thought it was a paper sack full of french fries with a dish of mayo. Instead I discovered that the crunchy strips were actually the toasted crusts cut off from the loaves of tramezzini bread, coated in oil and baked till they made just about the most perfect snack ever. And that mayo? Turned out to be humus, which they make up daily on site. Great idea, right?
While I loved the terrace, I'm actually looking forward to coming back in the winter, to sit in the back rooms which feel like a second hand shop where you want to buy everything. Which, actually, you can, since that is what it is.
Amblé does breakfast too, with freshly pressed juices made from fruits and veggies displayed in crates next to the bar. Just pick your produce and they will spin it into breakfast. Cakes and pastries too, are all made in house.
Don't you wish you had one of these in your neighborhood?
Amblé
Piazzetta dei Del Bene, 7/a
Florence
+39 055 268528
Closed Monday.
Tues – Sat 10-10
Sunday 5pm-10
For more on dining in Florence, download my app, EAT FLORENCE, available on iTunes.