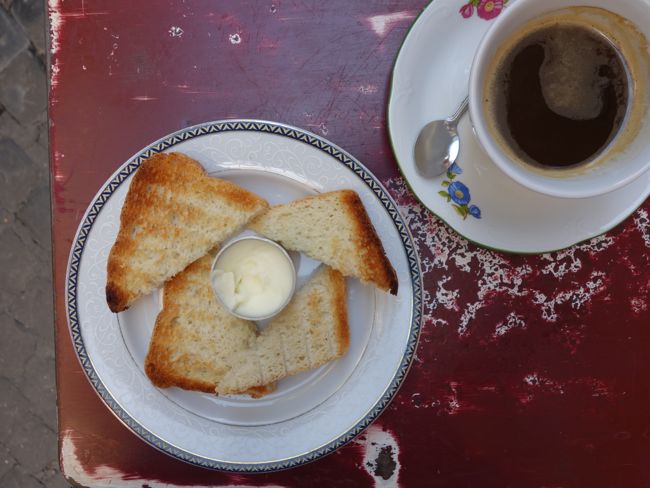 I'm not very social in the morning. It's not that it takes me a long time to wake up. Actually, just the opposite. I wake up, and while sipping my first cup of coffee, it's the quiet time in the first hours of the day that I find most productive. That's when I get the most writing done, and am able to zip through emails at the speed of sound.
So I guard this precious time of the day jealously. Up by 7 and – after a walk with Pico – at my desk by 8:30 at the latest. Along the way, I've managed to fit in a couple of cups of coffee and breakfast.
Which means I almost never ever go out for breakfast. Even though, recently, breakfast out has become a much more interesting prospect in Rome. It used to be that it wasn't that hard to turn down an opportunity to meet friends for a quick cappuccino and cornetto at the counter of the local bar. First of all, I'm more of a savory kind of breakfast person. Also? I like to read the paper while having a quiet 15 minutes or so to my self (I told you I wasn't social in the a.m.)
My friend Gillian, however, is just the opposite. She's all about meeting girlfriends for breakfast. (But then, she stays up late into the night working away, while my brain shuts down at about 2 pm).  Lately, though, I've been tempted to join her, since not only are some of my favorite restaurants in Rome now offering sit-down breakfasts, they are including things like eggs and buttered toast.
So when my friend Annette was in town last week, it seemed a perfect opportunity to break out of my morning rut and join the girls for breakfast. Luckily I didn't even have to venture out of my neighborhood.
We headed over to Urbana 47. This cozy restaurant, one of the first in Rome to emphasize locally sourced ingredients, now stays open pretty much all day and offers one of the best 'real' breakfasts in the neighborhood. While their 'Colette' breakfast focusses on their excellent homemade pastries, all three of us went pure 'American' and ordered eggs.
For 10 Euros we had thick slices of toast made from their homemade bread, eggs any way we pleased, freshly pressed juice and coffee served in the prettiest cups ever.
And even though I didn't get as much work done that day as I had planned, I'm happy to report the world didn't come to an end. And actually? Having a breakfast out with girlfriends is fun. But you probably already knew that.
Urbana 47
Via Urbana 47, Rome
+39.06.4788.4006
For more on new places to have breakfast in Rome:
Casa e Bottega 
And Gillian of course is always reporting on her breakfast escapades.
For more on eating in Rome download my app, Eat Italy, available on iTunes.