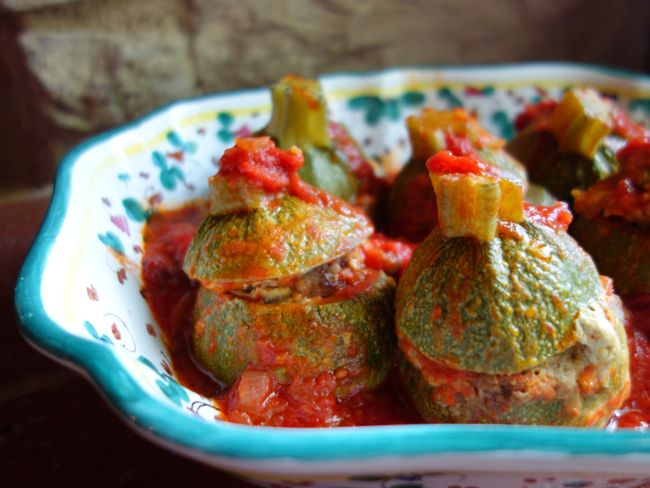 When it comes to food I usually veer away from cute. I was never into the whole cake pop thing, and to tell you the truth making cupcakes at home kind of scared me. I think it's partly to do with my not feeling overly confident as a baker. Most 'cute' food comes on the sweet side, and I'm much more likely to find myself sweating over some complicated pilaf and just send Domenico out for a cake from the bakery.
But there is one dish that I make an exception for: stuffed vegetables. I love the entire process of hollowing out a zucchini, tomato or eggplant, and carefully stuffing them and reassembling them so they still look like what they started out as: intact, perfect little veggies. But filled with a delicious meal. Cute, right?
And for veggie cuteness you can't get more precious than roly poly zucchini. I swear, I am not making up this name. The tennis ball sized green gourds are really called Roly Poly Zucchini. I first discovered them about 20 years ago, while pouring over seed catalogues to plant out garden. That was back when I still started most of our seedlings myself, on the terrace in Rome, carrying them up to our garden in Todi to plant out. I would order a pack each of about five different types of zucchini seeds, very proud of myself when I was the absolute only one in Umbria ( I'm guessing )to have such exotic gourds.
Eventually, thank goodness, my local nursery  started offering more of a variety zucchini-wise, so I was able to buy seedlings straight from him. And now? 20 years on? Roly Poly are everywhere: at my farmers market, at the supermarket and – of course – on my table.
I first leaned to cook stuffed vegetables in Greece, where I lived one summer with my family. While everyone else was out at the beach, I would hang out in the kitchen learning how to cook Greek dishes. My favorite was the elaborate dolmades, which I learned did not just refer to stuffed grape leaves, but meant stuffed everything. Each vegetable would be carefully hollowed out and then stuffed with a mixture of rice, onions and tomatoes. I learned how to time the cooking so that each vegetable was added at the precise time to make sure they were cooked to perfection, didn't fall apart and that every grain of rice was tender. A platter of these glistening vegetables laid out on a platter? Gorgeous. Like a Dutch still life.
These days I go for cute. Roly Poly zucchini were invented, I am sure, just for stuffing. Using a melon baller, the hollowing out work takes seconds. And the stuffing? I learned to wing it. Whatever goes in ends up tasting fantastic.
This past weekend it was ricotta cheese, some egg yolks left over from making pavlova, onions and a couple of hunks of walnut bread, cut up into cubes. Cooked in a simple tomato sauce it was pretty much a one dish meal. Filling, delicious and (do i really have to say it?) cute.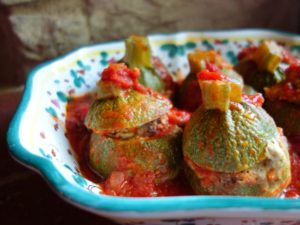 Print
stuffed roly poly zucchini
Yield 4
Ingredients
8 tennis ball sized Roly Poly zucchini
4 egg yolks ( or 2 whole eggs)
1 cup ricotta cheese
1 cup crumbled day old bread (I used whole wheat walnut bread, which was fantastic)
3 tablespoons olive oil
1 large onion chopped (about a 1 cup)
6 fresh sage leaves, chopped
1 large can pelati tomatoes
salt
Instructions
Cut the top off of each zucchini, about a half inch down from the top.
Using a melon baller, carefully scoop out each zucchini, being careful to leave at least a 1/4 inch of flesh on the sides.
Lightly salt the insides of the zucchini, and turn them over to drain on a paper towel.
Roughly cut up half of the zucchini flesh, and toss the rest (or freeze and use in your next batch of minestrone)
Heat 1 tablespoon of the olive oil in a pan with sides high enough to hold the zucchini standing upright with their lids. Add the 1/2 the onions, sage, 1/2 tsp of salt and let soften. Add the chopped zucchini flesh and cook until it done and has give up all of its water. This will take about 10 to 15 minutes.
Put the onion zucchini mixture in a mixing bowl and let cool.
In the meantime put another tablespoon of olive oil into the same pan and add the rest of the onions and 1/2 tsp of salt. Let cook until the onions have wilted, and then add the tomatoes and their liquid. Let this cook at medium heat for about 15 minutes.
Now that the onions and zucchini mixture has cooled, add the ricotta, egg yolks, crumbled bread, last tablespoon of olive oil. Mix well.
Using a paper towel, pat the insides of the zucchini dry.
Using a spoon, stuff the zucchini, distributing the stuffing between them.
Top each zucchini with a lid, and place in the pan with the tomato sauce. Using a spoon, ladle some of the sauce on top of each zucchini. If the sauce seems too thick, add a bit of water. Cover and cook till done, checking and basting every so often
The zucchini should take about 45 minutes to cook. Server warm or at room temperature.