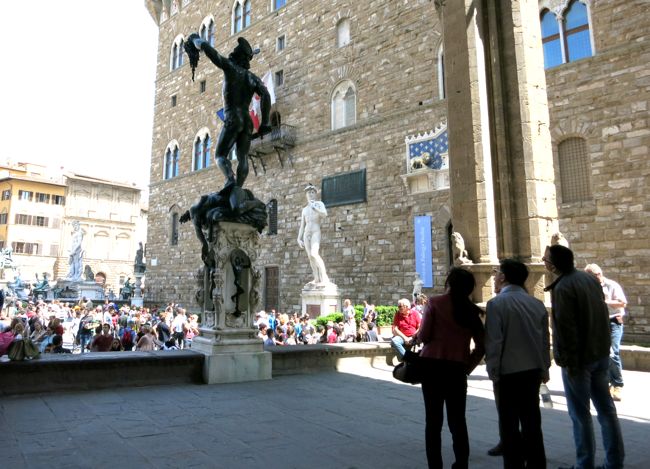 One of the most frequent questions I get from people coming to Italy is 1) where to find a good restaurant where they can sit outside and  2) also have a great view. You'd think there would be a lot of these, right? Since the weather is often warm enough to sit outside for a good part of the year and just about everywhere you look there is a good view.
Oddly, not only are these two factors hard to pair together, but if you put the request for 3)  good food on top of that, it becomes almost impossible. Sure, most hotels have rooftop restaurants, but the food is either so so, shockingly expensive or else they don't have an outside terrace. Then there are the restaurants located in squares like Piazza Navona, Piazza del Pantheon or St. Marks. Most of these (with some exceptions) are again stupidly pricey for usually mediocre to downright bad food.
That's why I was so happy to discover that Caffe Gucci in Florence has now added an outdoor terrace to its restaurant in Piazza della Signoria. I've written about the Caffe in the past, and have always loved its sleek and modern interiors set along one of the most historically important squares in Italy. And the food is very very good.
If you've never realized the Caffe Gucci exists, it's because its understated facade is located in the quieter and less trafficked part of this beautiful, but busy, square. While the hoards of tourists flock around the statue of David, making their way towards the Uffizi, the other end of the L-shaped piazza is always blessedly empty.
So you can dine here, beneath the shade of large white umbrellas, and:
be outside
with a view
while enjoying a great meal
Any other questions?
Gucci Cafe e Ristorante
Piazza della Signoria
The cafe is open all day long, from 10am-11pm.
For more on eating in Florence download my app, Eat Italy, available on iTunes.