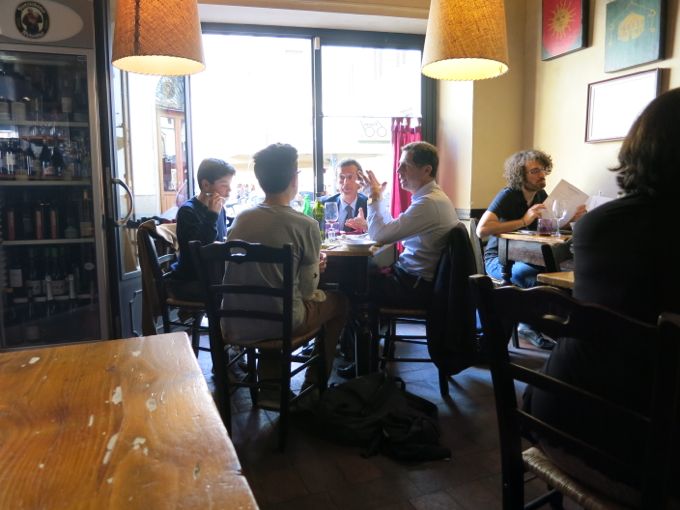 I took a day trip up to Florence yesterday. I always forget how easy this is to do. The train is fast (under 2 hours) and there is a special 1/2 price discount for a same-day, round-trip ticket. I went up for a two reasons. My friend Martha was in Florence, visiting from Boston, and I also wanted to see the Pontormo and Rosso show at Palazzo Strozzi.
Somehow (I'm not sure what I was thinking) my idea was also to escape the insane crowds in Rome this week. Between last weekend's Easter and this weekend's long holiday + beautification (or is it a cannonization?) the city is jam packed with tourists and pilgrims. I thought Florence would be a respite.
Hah!
I have never, ever, in my life seen Florence so crowded. You would have thought they were giving out free money in Piazza della Signoria. Ponte Vecchio was like a New Jersey Mall on Black Friday. There was even a line to get in to the church of Santa Maria Novella!
But like most big Italian cities, the crowds tend to stick to very specific areas. When in Florence my game plan for avoiding the hoards is to head as far away from the Duomo as possible. An easy way to accomplish this is to head over to the Oltrarno, the other side of the river.
So for lunch we walked over Ponte Santa Trinita to one of my favorite squares in Florence, Piazza della Passera , and had lunch at Osteria Tripperia il Magazzino
A few years ago Luca Cai upgraded from  itinerant tripe seller to a restaurant owner. But one with his roots firmly dug into the cucina povera of Florence. His cozy Osteria Tripperia Il Magazzino is one of my favorite places to indulge in all things tripey. While I love a good panino at one of the stands around town, there is also something to be said for sitting down at the table and digging in to a big bowl of steaming lampredotto. Since not all my friends share my passion, there's also the fact that the Osteria has a full and delicious menu of other things as well.
My favorite thing to start with are the tiny, deep fried lampredotto meatballs. If I don't tell my friends that they are actually filled with tripe, they never know, and are soon converted. The crispy balls contain the most heavenly mix of creamy cooked lampredotto and just the right amount of spice.
Martha ordered the linguine with pesto di pistachio, which while not traditional or Florentine, was absolutely delicious. My friend Peggy was a bit braver, and dug into a perfect plate of rabbit alla cacciatora. Patty ordered the dish that I will be trying to recreate at home: pasta shells tossed with a ragu made entirely from chicken livers. I, of course, do what I always do here, and ordered a big terracotta pot full of lampredotto. It comes with a small pot full of salsa verde which I drizzled all over the place.
While I was busy tasting everyone else's dishes, my friends left mine all to myself. Which was just fine with me.
After splitting a piece of the richest chocolate tart imaginable we all headed to Palazzo Strozzi to see the Pontormo and Rosso show. Mannerism at its most colorful and sublime, the show was blissfully empty. I guess everyone else was still busy crossing the Ponte Vecchio to get to the Duomo
Osteria Tripperia Il Maggazino
Piazza della Passera 2/3
+39.055.215.969
For more information on eating in Florence download my app Eat Italy available on iTunes.