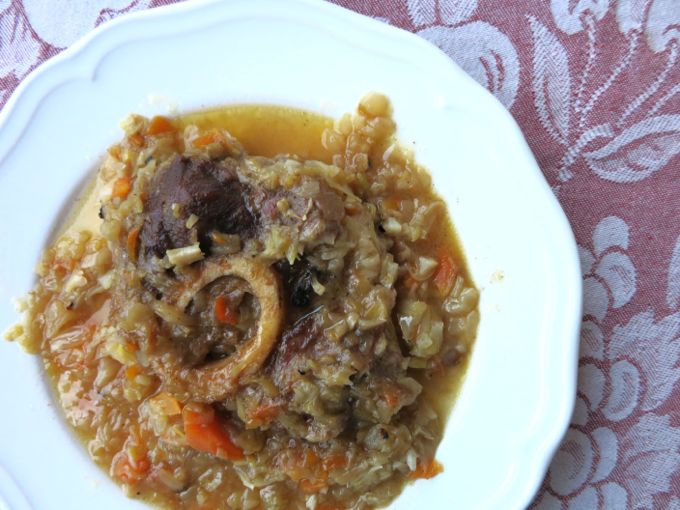 Ossobuco is one of those dishes I almost never make at home. I love to order it in a restaurant, but rarely do enough ahead of time planning to cook it myself
And by ahead of time planning I mean getting to a butcher that actually has ossobuco for sale. This used to be an easy thing to do, back in the day when there were butchers all over the place. When I first moved into the Monti neighborhood there were five butcher shops, one of which specialized in only horse meat. (I kid you not) Today? There is only one butcher left. Much has to do with rising rents, and then there's also competition from supermarkets. It's a sad, sad state of affairs.
And while my butcher is very good, he's also very expensive. (I think that's why he is the only one to survive). Also, if I do want something like ossobuco, I usually have to pre order it to make sure he has it.
Instead, these days, I buy most of my meat at the weekly Farmer's Market. But up until last week I'd never seen ossobuco. That is because I tend to go on the late side (2pm) when the market is blissfully uncrowded but also – unfortunately – sold out of things like the much sought after ossobuco.
This past Sunday as I was coming back in to Rome from an early landing at Fiumicino, Domenico and I stopped by the market just as they were opening. And low and behold, a big pile-o-ossobuco greeted me as I walked through the door.
Ossobuco is dead simple to make (once you've managed to track down the ossobuco that is). It's an incredibly rich cut of meat and a little goes a long way. My thinking with ossobuco is that the sauce is one of the main parts of this dish.
With that in mind I use more odori, or vegetables, than most recipes call for. I love the slowly cooked mix of onions, carrots and other vegetables along side the buttery soft meat. This time around I didn't have any celery (forgot!) but amply made up for that lack by a big fat leek and a bulb of fennel.
The final touch is always gremolato, a chopped up mix of lemon peel and parsley that is added at the last minute.
Most recipes usually call for 2 pieces of ossobuco per person. Mine calls for one. Because really, once you've filled up everyone's plate with loads of rich sauce and a slice or two of crusty bread (or even better, mashed potatoes) I think that's plenty.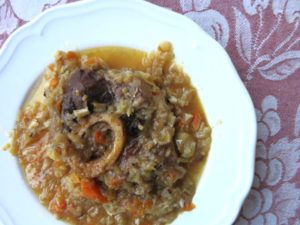 Print
ossobuco
Yield 4
Ingredients
4 1-inch thick slices of ossobuco
4 tablespoons olive oil
2 tablespoons butter
flour
salt, pepper
1 large onion
1 large carrot
1 large leek
1 large fennel bulb
1 cup white wine
zest from one untreated lemon
small bunch of parsley
Instructions
Season the ossobuco with salt and pepper and let sit for about 20 minutes.
In the meantime, chop the vegetables. I usually just put everything into the food processor. I like it chopped roughly, but pretty fine, so that makes the job go much more quickly.
Heat the olive oil and butter in a pan large enough to hold all the meat and the vegetables.
Dredge the ossobuco in flour, and add to pan. Brown well, on both sides. And by brown well, I mean really brown well. Do not skimp on this part. Those rich, dark brown bits of caramelized meat is what will give the rest of the dish its rich, deep taste.
Remove the ossobuco and place aside on a plate.
Add all the vegetables to the pan. Using a wooden spoon, scrape up the browned bits of meat and flour. Let the vegetables cook, until softened. About 10 minutes. Season with salt.
Add the meat, and any juices, back to the pan, pushing aside the vegetables to make room.
Add the wine, and let simmer for about 4 minutes. Cover the pan and let cook for about 15 minutes, then check to see if it's too dry. If so, add about a cup of water, cover again, and let cook very slowly for about an hour.
Chop the lemon zest and parsley finely, then add to the ossobuco at the last minute. You don't have to stir it in (It will be hard to do so) but make sure you've managed to get some gremolato on each piece.
Serve each guest a piece of ossobuco with the sauce. Of course the best way to enjoy the sauce is along with a big mound of buttery mashed potatoes.