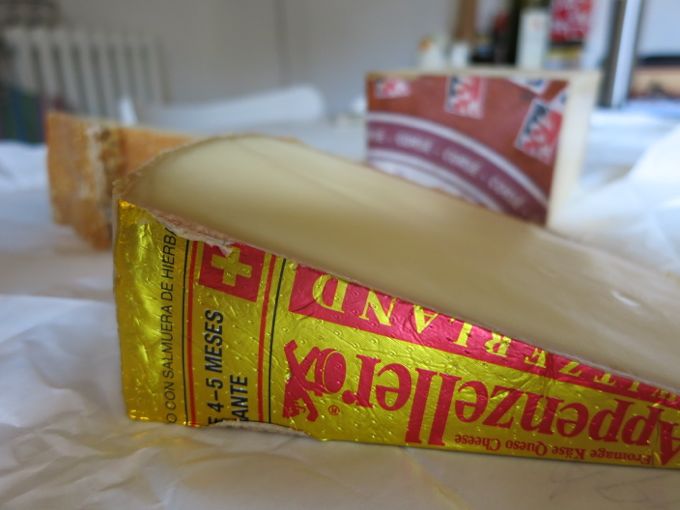 Like a lot of people I know, I own a fondue pot. It's charmingly retro and when I posted a photograph of it on Facebook my mother actually thought it was the same one I remember growing up with. I wish. My mother long ago got rid of all the 'sixties stuff I now eagerly seek out in flea markets. Which is exactly where I found my perfectly olive green beauty, complete with individual, color coded forks.
I wish I had room to display it somewhere, but its home is way back on the top shelf of my storage closet. Where it stays, like most people's fondue pots, for 364 days of the year. Or more in my case.
I realized that we hadn't had fondue in at least 4 or 5 years. It's just not something that I can justify in terms cheese overload. In the last few years, as I've been taking more and more people around Rome on food tours, my daily cheese intake has risen alarmingly. Hence the almost totalitarian cheese ban on the home front.
But when Domenico had to go for work to Switzerland a few weeks back I couldn't resist. He phoned me while on a break from a meeting. "I'm standing in front of what looks like, and smells like, an amazing cheese store." It took me only 1 and a half seconds to respond "Go for it."
Domenico left the cheese choosing up to the professionals which resulted in three perfectly wrapped and labeled hunks of rich, creamy and perfectly ripe Swiss cheeses. So ripe, in fact, that Sophie, upon walking into the kitchen, declared that the entire apartment smelled like feet. Perfect!
In fact, the only decision Domenico had to make at the cheese store was wheter or not we preferred our fondue scharf or not. Scharf is German for sharp, and our cheeses were definitely that. Both the Gruyere and the Appenzeller were clearly labeled wurzig, or 'aromatic.' I guess as a warning before I unwrapped them.
As I took the cheeses out of the bag, a small piece of paper floated to the floor. The store had kindly included the recipe for fondue.
Because there is a recipe. It's not just melt the cheese and dip your bread. There is a science and an art to fondue, which involves the addition of wine and kirsch. This serves not just to flavor the resulting fondue, but to ensure that the cheese doesn't clump into a big ball. The acidity of the wine has some sort of chemical reaction with the cheese to make it the perfect consistency for dipping.
The next step was deciding the rest of the menu, which I'm always confused by when it comes to fondue night. Fondue is obviously the main event, but you can't just eat an entire meal of bread and cheese (well you can, but you probably shouldn't). I solved this conundrum by adding bowls of briefly cooked cauliflower and broccoli next to the baskets of bread. Two huge salads, one of spinach and apple,  and one of fennel, were healthy and delicious.
To drink I couldn't decide between red wine or white, so served both. And for dessert? If you hadn't already guessed, Domenico came back home with way too much Swiss chocolate.
Even though I adore fondue because it is delicious, there is also something incredibly fun about the entire experience. I love the special little forks and the thrill of trying not to lose your bread in the gooey mass. There is a tradition of downing a shot of kirsch if your bread goes missing. Even though we didn't enforce that rule, the entire bottle of Pirus pear aquavit that I had opened to add to the fondue was mysteriously empty by the end of the night.
That could also explain all the fun we were having.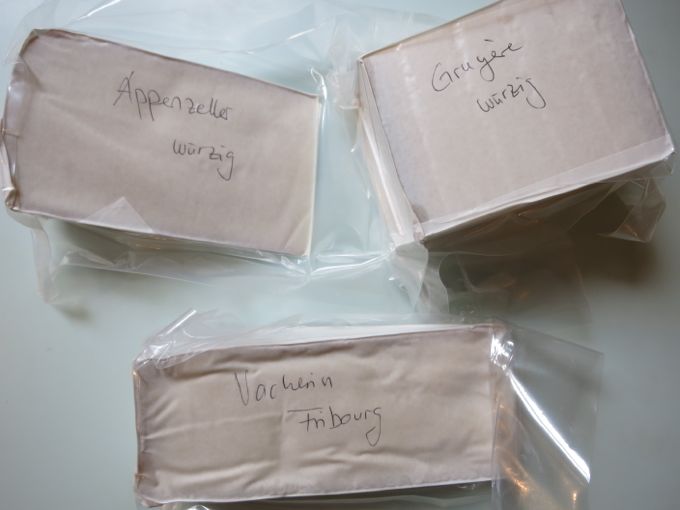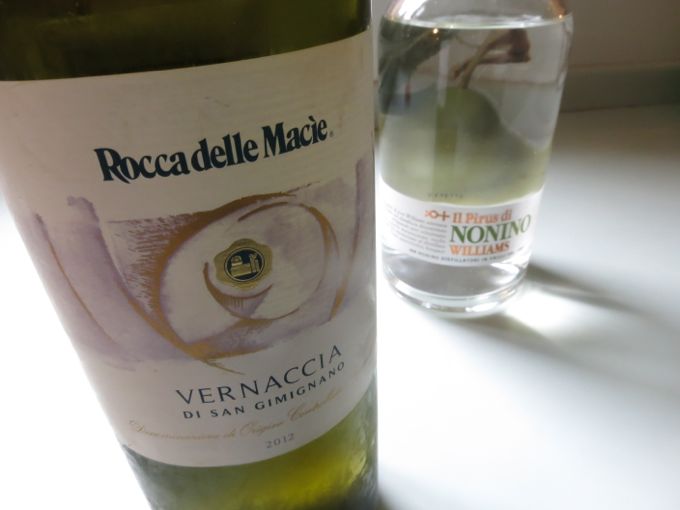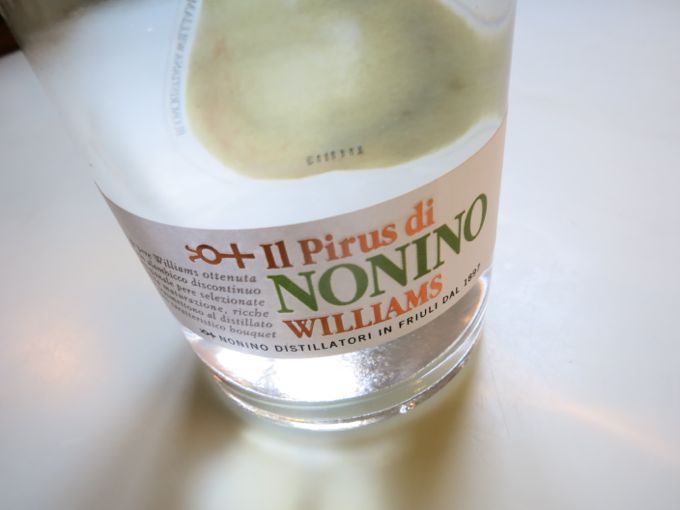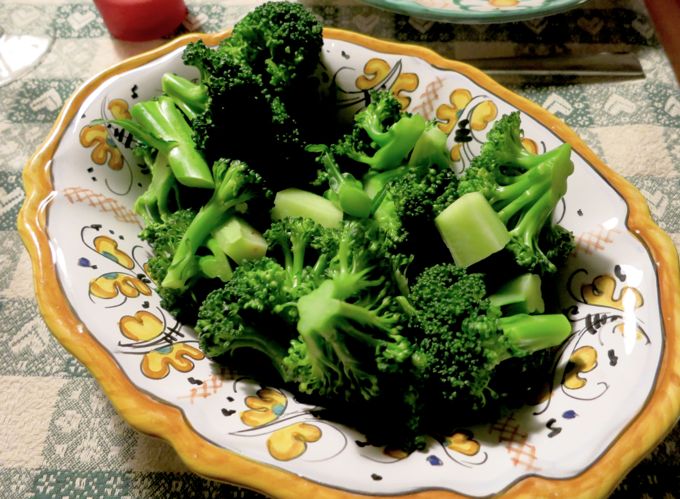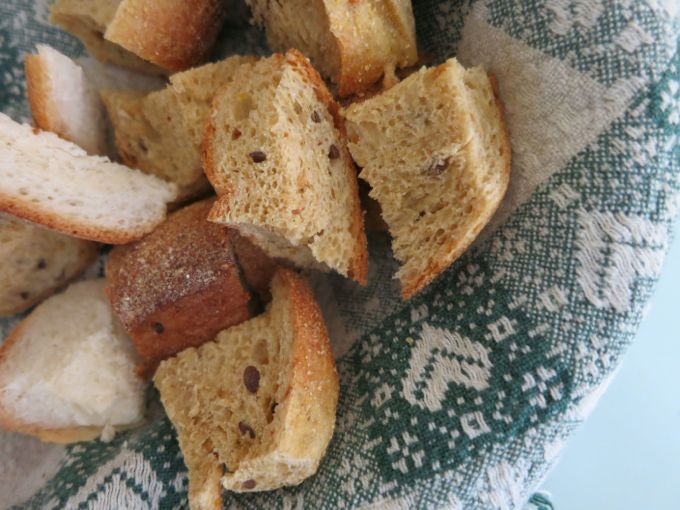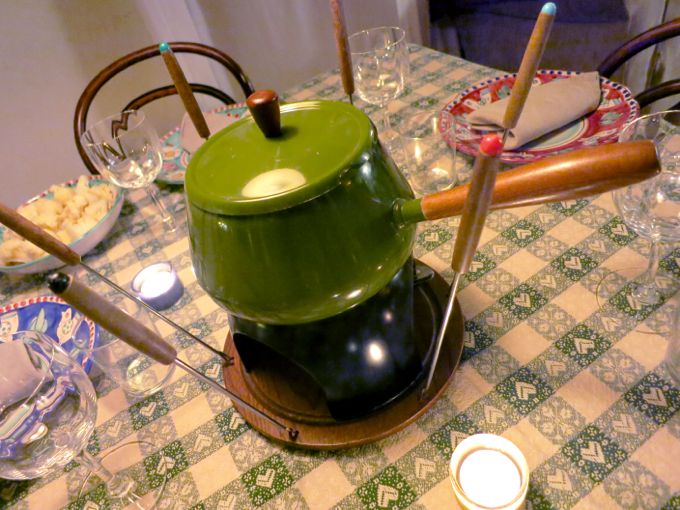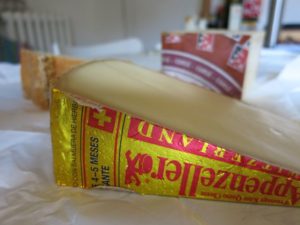 Print
swiss cheese fondue
Yield 4
Ingredients
800 gr / 1.8 pounds cheese*
4 dl / 1.5 cups white wine
1 tsp cornstarch
1/4 cup kirsch, aquavit or grappa
Instructions
Shred the cheese with a large holed grater or in a food processor loaded with the large holed grating attachment.
Dissolve the cornstarch into the kirsch
Put the grated cheese in a pot with a sturdy bottom, and add the white wine. Turn heat to low and begin stirring, always in the same direction.
When the cheese has melted, add the kirsch and cornstarch mixture.
Keep stirring until well melted and creamy.
Pour the melted fondue into your fondue pot, and light the flame beneath it to keep it melted.
It's important that as each guest dips their bread or vegetable, they give the pot a good stir, to keep the cheese and wine blended.
Notes
*Domenico came back with the following cheeses:Gruyere Wurzig (400 gr)Vacherin Fribourg (200 gr)Appenzeller Wurzig (200 gr)Wurzig means 'full flavored' and our fondue was indeed that. Of the three, the Vacherin was the mildest. When deciding what cheeses to use, talk it over with your cheese monger first. And go for quality cheese. You don't have to fly all the way to Switzerland for your cheese, but do make an effort to head to a great cheese store. I mean really, if you're only going to have fondue once a year, you might as well do it right.I doubled the recipe for six people. Once we finished the first batch, I went back in the kitchen and made the next batch. We had a bit left over, which I used the next day to make risotto. Vegetables: Cut broccoli and/or cauliflower into small, bite sized florets. Bring a large pot of salted water to boil, and cook each separately. The broccoli should take three minutes, and the cauliflower four. When they have cooked, scoop them up with a slotted spoon and immediately put in a ice water bath to stop the cooking and keep them firm. Drain well, and serve at room temperature with fondue.Bread: I used a mixture different crusty rolls I bought the day before. When you cut the bread into bit size pieces, make sure you include a bit of crust on each piece so it can catch the fondue more easily without falling apart.
Where to get your cheeses without sending someone to Switzerland to do your shopping:
Formaggio Kitchen
Murrays Cheese
Zingermans
They all ship!