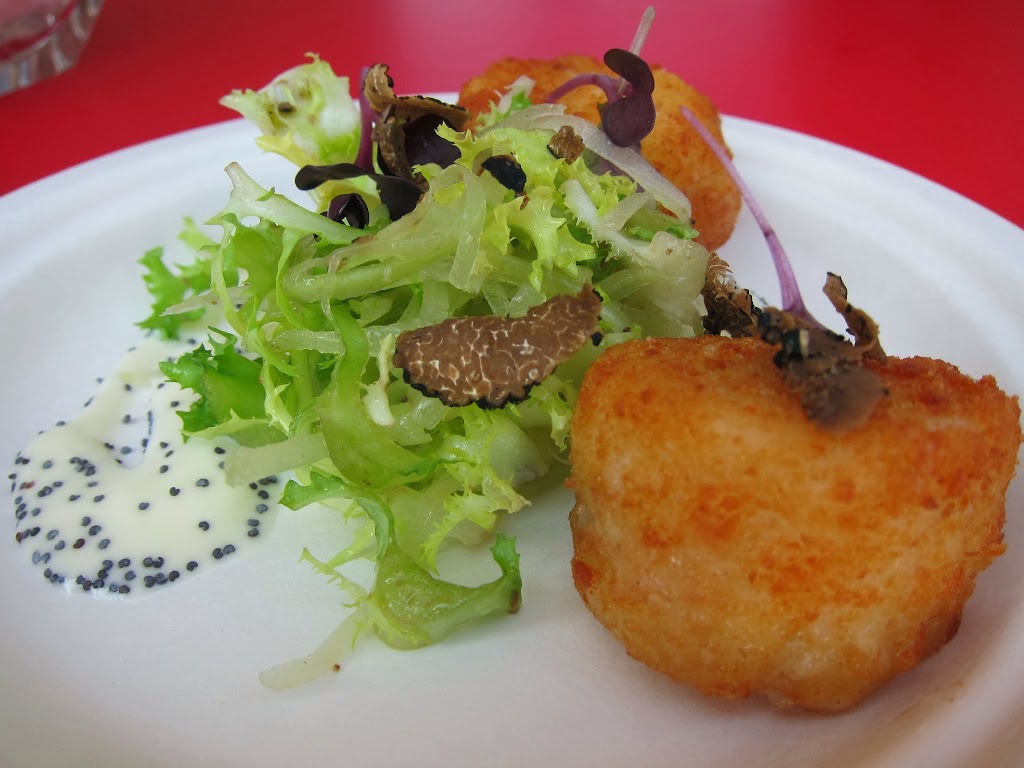 Breaded scallops stuffed with mozzarella, celery leaves and black truffles.(Francesco Apreda)

Like most things Italian, the food festival Taste of Roma (which starts today) is as delicious as it is confusing. While you can visit the web site, you'll probably leave it more perplexed than enlightened. Since I've had so many emails and messages in the last few days asking me about it, I thought it was worth writing up this little instruction post.

When: This weekend. The Festival starts today, Thursday September 26 , in the evening and runs through Sunday, September 29.
Where: The Auditorium, located on Viale Pietro De Coubertin, 30. The festival takes place outside, in the garden up and behind the Auditorium. There is plenty of parking.
What: The Festival is mostly a chance to taste some of the greatest dishes by Rome's greatest chefs. Although there are a lot of mini events (cooking demonstrations, talks, etc) the main thing is all about the food. 10 of Rome's most talented chefs each prepare three or four dishes. Dishes that usually cost upwards of 40 euros a plate are offered as mini portions for for about 20 Euros. Also, this is the chance to pick and choose various dishes from all the most famous restaurants, without committing to an entire (and costly!) meal.
How: There is an entrance fee of 16 Euros. Once inside you buy tokens (sesterzi) that cost 5 euros each. You use these tokens to buy the dishes, which are all priced differently.
Who: Andrea Fusco (Giuda Ballerino); Angelo Troiani (Il Convivio); Arcangelo Dandini (l'Arcangelo); Cristina Bowerman (Glass and Romeo); Danilo Ciavattini (La Torre); Francesco Apreda (Imago); Giulio Terinoni (Acquolina); Heinz Beck (La Pergola); Roy Caceres (Metamorfosi); Stefano Marzetti (Mirabelle)
The somewhat steep entrance fee means that (unlike most food fairs in Italy) it's never that crowded. Also, the dishes themselves – while relatively inexpensive – are not cheap. And there is no free food.  In other words, there are not just a bunch of people  randomly walking around, grazing and getting in the way. You have to really want to be there, and taste all this amazing food.
Here are some photos from last year, which should give you a pretty good idea of what to expect.
My mistake last year was that I went on Sunday afternoon, and, since there is only so much you can eat at one time (yes, it's true, even I have my limits), I didn't get nearly enough time to try everything. I wish I could have returned just one more time. Or twice.
Which means if you do go, you'll probably see me there.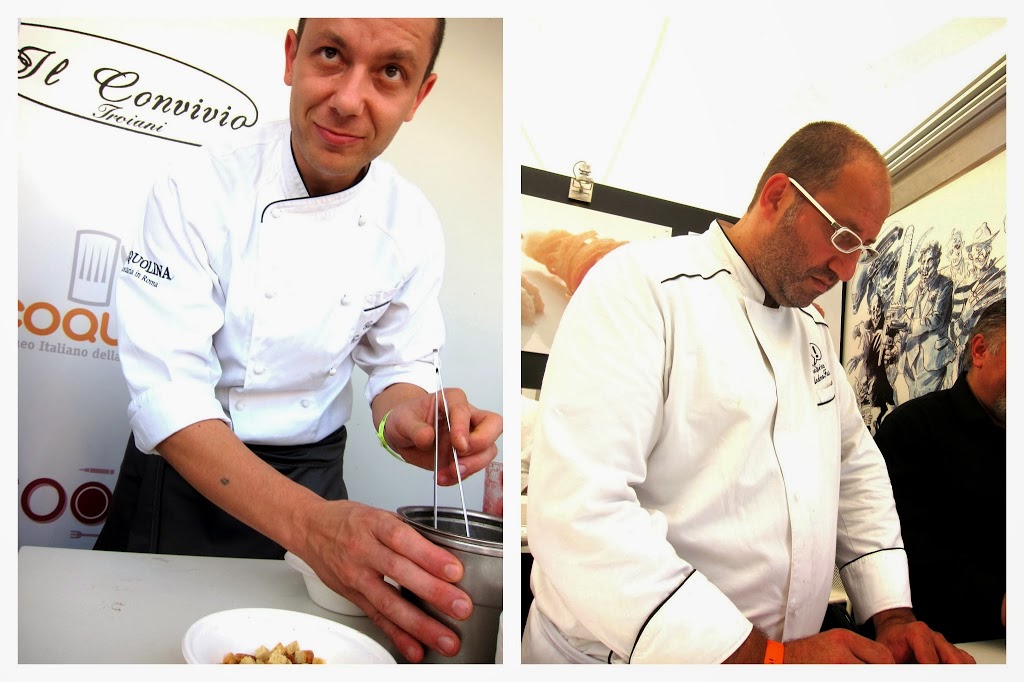 Giulio Terinononi (left) and Andrea Fusco (Right)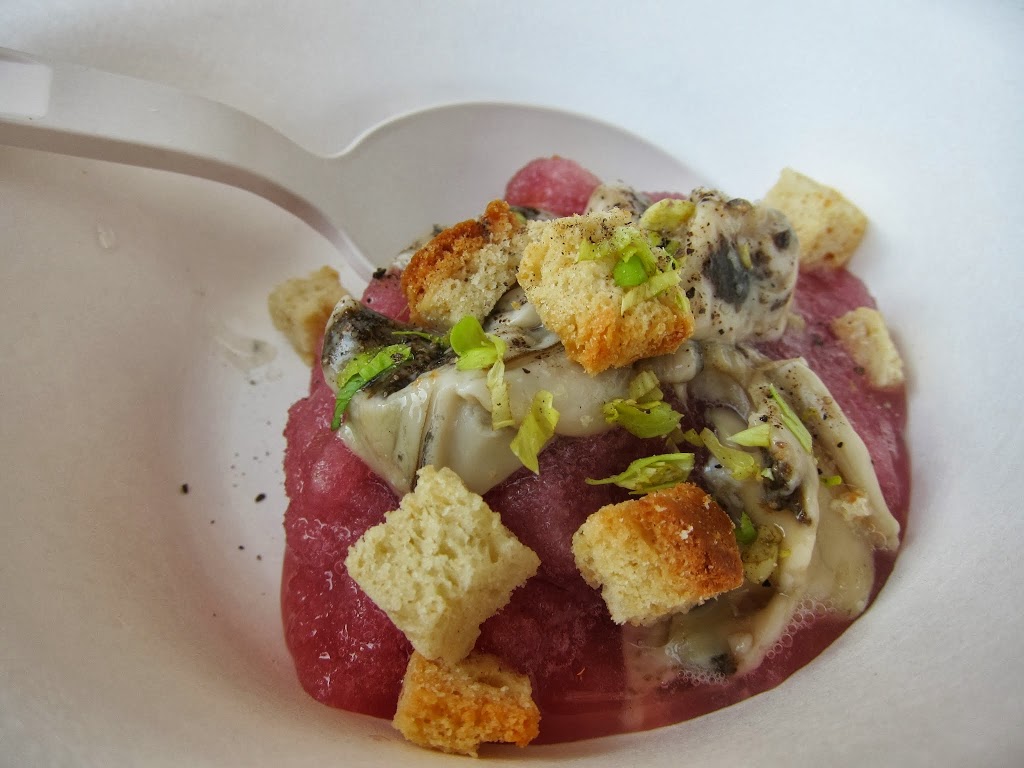 Freddo di Cipolle Rosse con Ostriche e Pane al Gorgonzola (Giulio Terinoni)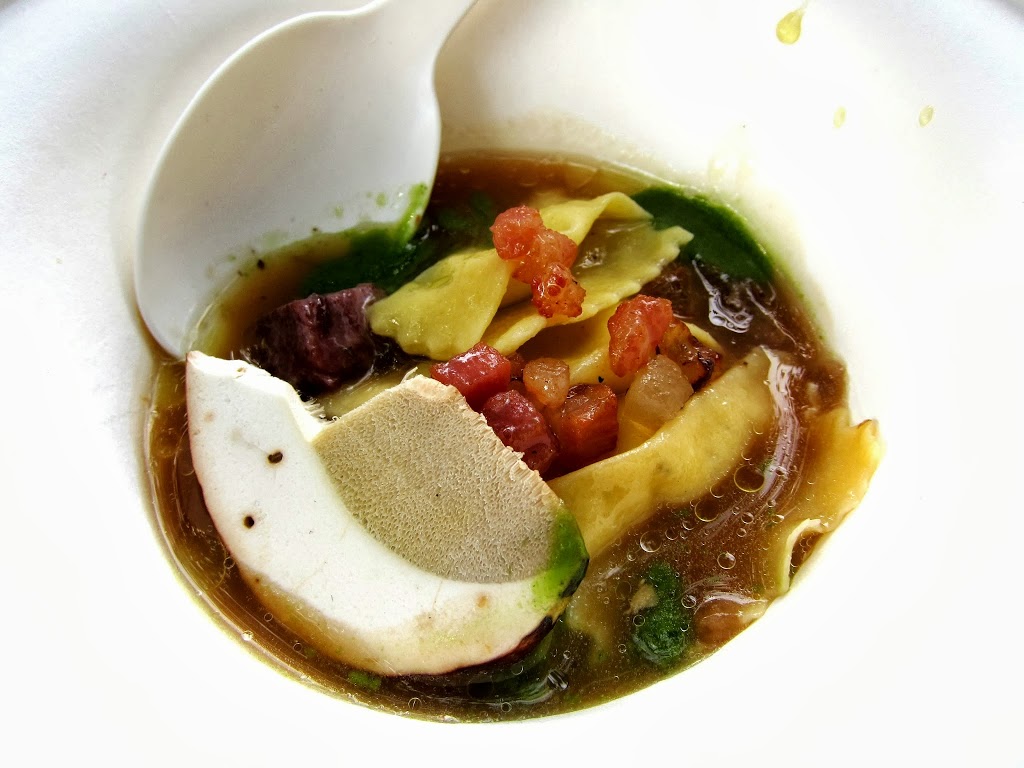 Some kind of ravioli in mushroom broth (Andrea Fusco)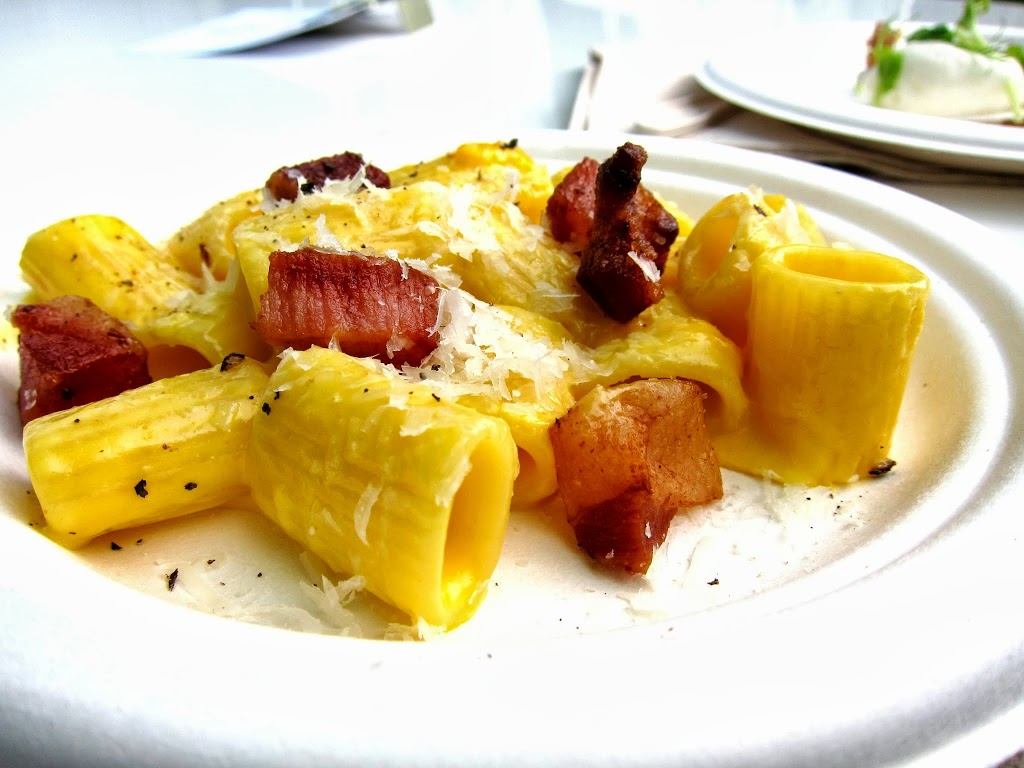 Carbonara (Pipero al Rex)
Taste of Roma
If you'd like to form a plan of attack, here are the menus 
For more on eating your way through Rome, download my app, Eat Italy, available at iTunes or for Android.