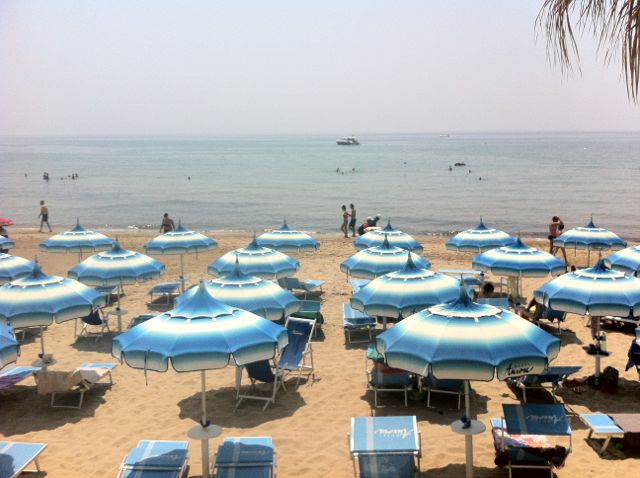 I went to Sperlonga for the first time last weekend.

This is kind of a strange thing to admit, since I feel like I am just about the only person I know, in Rome, who has never been. In case you've never been either, Sperlonga is a gorgeous little village, perched on hill looking over the sea. But the real reason people go is that it is surrounded on both sides by long, sandy beaches with crystal clear water.


One of the reasons I've never been here is that for the last 20 years or so when we wanted to escape from Rome, we headed to our house in Umbria. That is the blessing and the curse of having a country house. True, you always have a beautiful place to go to. But it often turns out it is the only place you go to.

There is also the fact that Domenico hates anything that has to do with crowds, especially at the beach. So instead of taking quick breaks throughout the summer to places like Sperlonga, we would save up our energy (and euros) and travel to deserted beaches further afield.

And while Sperlonga is definitely on the crowded end of the spectrum, after a long weekend enjoying its charms, we were both cursing ourselves for not having 'discovered' it sooner.

First a word about Italian beaches. Most of them are organized into private clubs, or stabilimenti. These clubs stake out their territory and set up umbrellas and beach chairs in neat littles rows. So if you are looking for a deserted beach where it's you and a few pine trees, this is not the place for you. Sperlonga is definitely beach club territory.

A lot of people rent out little apartments in the town itself. Since the weather had been nearing 100 degrees, we chose a hotel room right on the sea, as close to the water as possible. Our room came not only with a ceiling fan, but also extremely good air conditioning (not a given in a place like this) and included in the price of the room, our own extremely cute umbrella and lounge chairs.

Sperlonga is flanked by two long beaches. We stayed on the northern beach, which is narrower, and definitely more built up. And on the weekend was certainly 'lively.' The beach to the south is wider, but also just as full of clubs. But since there are not big buildings or hotels it definitely has a more wild feeling.

What did we do in Sperlonga? Relax. It's a beach getaway, pure and simple. The water is amazingly clear and clean, so we spent a long time just soaking hot Rome out of our system. One evening we made the effort to walk up the steep steps into town, and had an gin & tonic while watching everyone do their passagiata. The village is very low key, and definitely not chic or refined. In other words, perfect.

On our last day we got up early and took a long walk down the southern beach to end up at the Museo Archeologico di Sperlonga. Beautifully designed, the museum houses the handful of amazing statuary that was found in the Grotto of Tiberius, which we also visited.

If there is a more magically beautiful place in Italy, please let me know.

Also, have you ever been to a museum you can walk on the beach with your feet in the waves to get to?
The food? Breakfast at the hotel was pretty great. And the best meals we had were the extremely simple lunches served at the hotel bar. Tomato bruschetta, spaghetti with mixed seafood and massive slices of the best watermelon ever.

And did I mention that from 5 to 7 a waiter comes to your umbrella to take cocktail orders? Yes. Aperol Spritz at your lounge chair as you watch the sun go down over the hills of Circeo and Ponza.

Even though we are now in Umbria, I'm already planning at least one September weekend back in Sperlonga. Because I have a lot of time to make up for.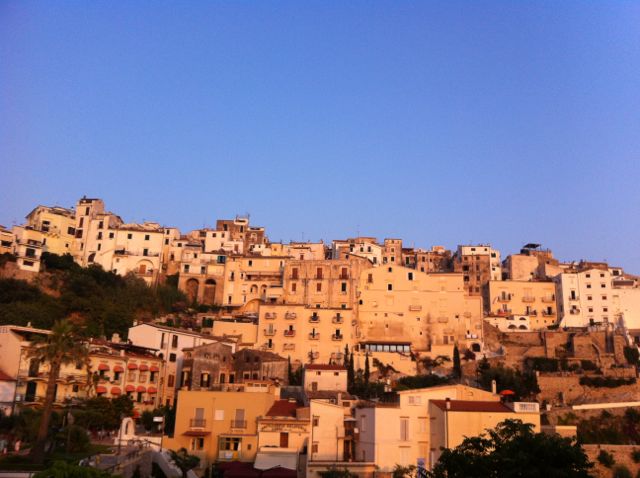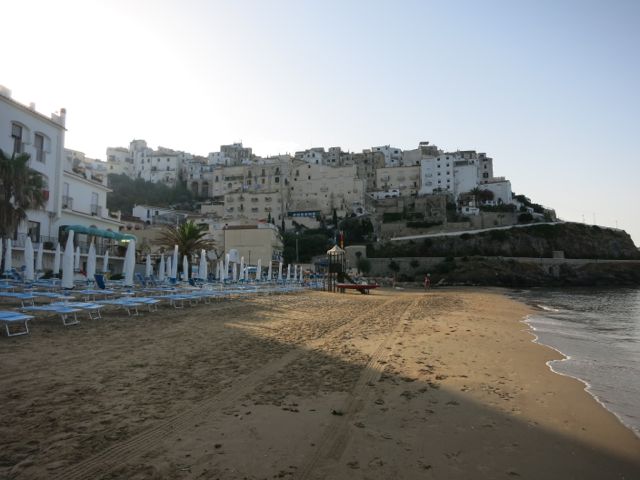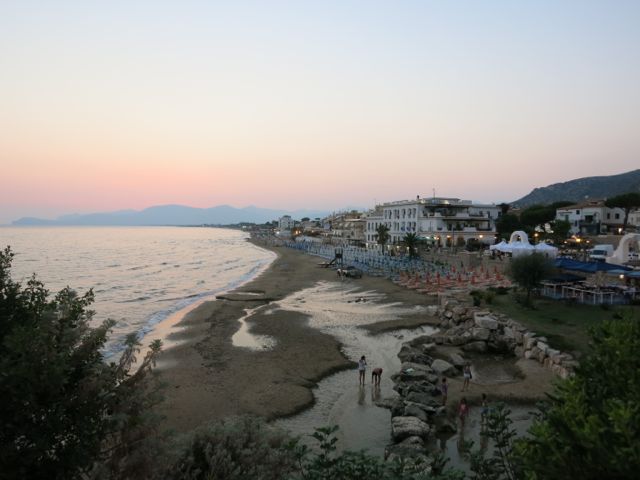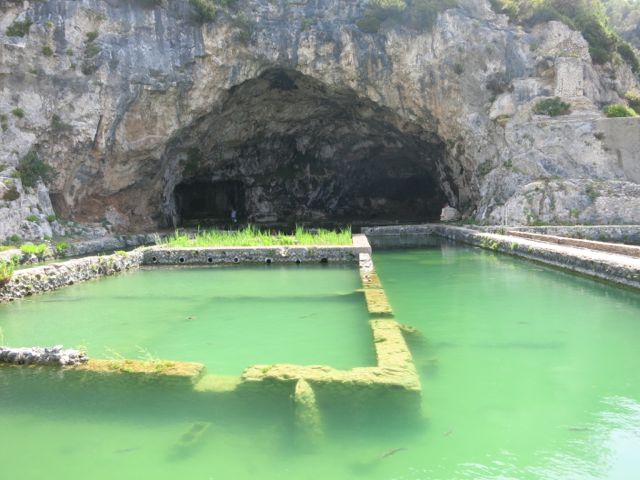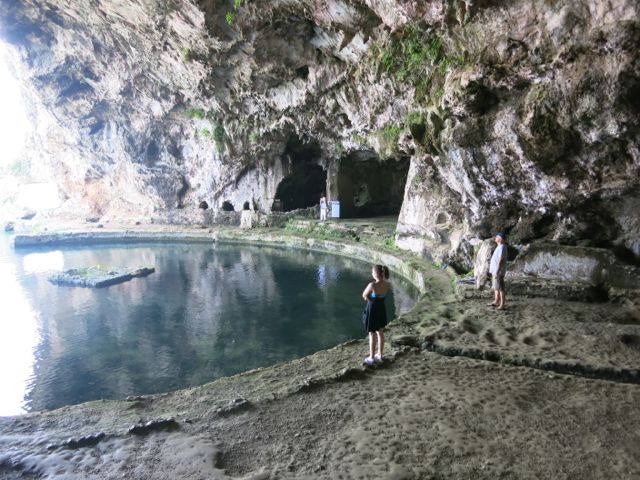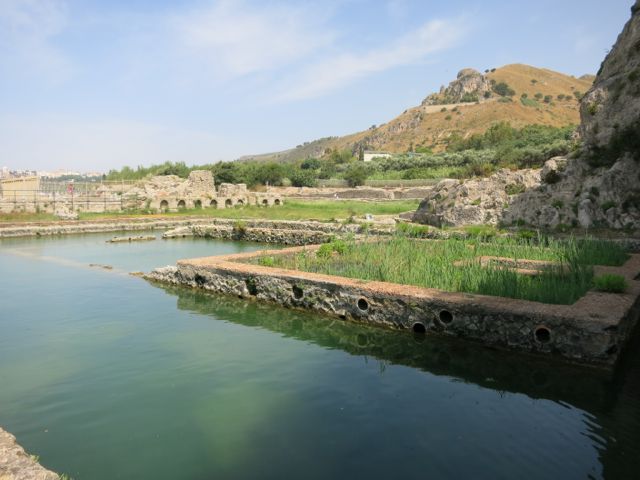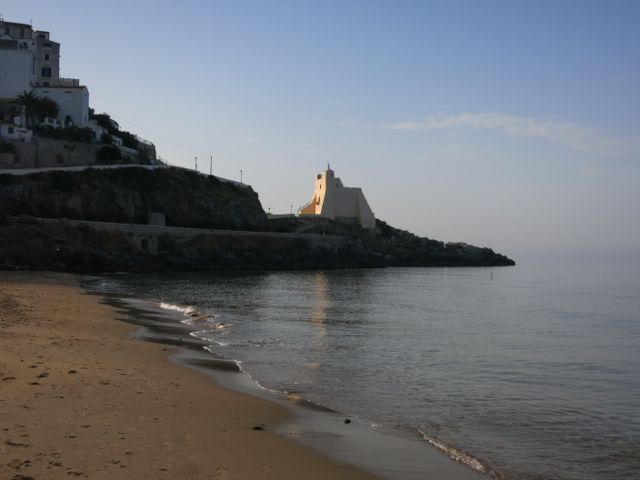 How To Sperlonga:
Getting there: There is a train that leaves hourly from Termini. The train ride to Fondi-Sperlonga takes about 1 hour and 15 minutes. Then you can take with a bus or a taxi for a 15 minute ride to town. If you drive, it takes about 2 hours since you are either on the Pontina or the Appia (in which case you can stop in Ariccia and get porchetta)

Staying: We stayed at the Hotel Aurora, which is definitely the nicest. The rooms were modern, clean and (as mentioned) had air conditioning. The breakfast is great, and includes fresh pastries, fruit and eggs. Next time I'm going to try for one of the rooms with a big terrace.

Eating: We had two bad meals (at Tramonto and All'Angolo), but one very good one at the Ristorante Scylla (via San Rocco 26). Amazingly fresh seafood, simply prepared. I've also heard the Ulysses, in the piazza by the sea, is good. If you go at the weekends, make sure to reserve. They were totally booked.

Museo Archeologico di Sperlonga: You can get to this from the main road, but much funner to take a long walk along the beach to get there. We wore our flip flops and just put a cover up over our swimsuits to take the long walk along the southern beach. At a certain point you turn left, and walk up a short dirt road to get there.