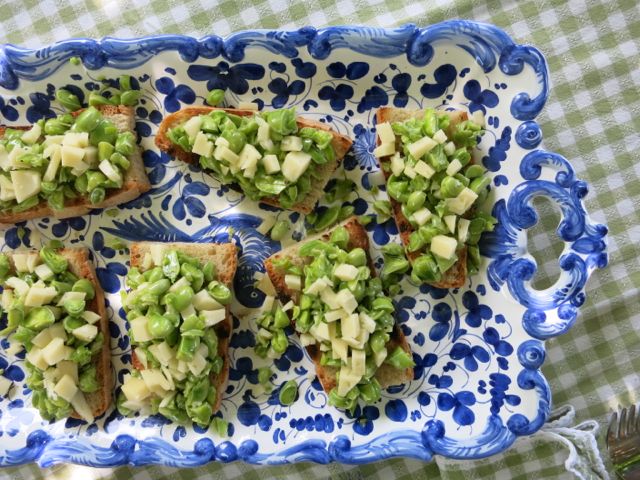 It's been one holiday after the other in Italy these last few weeks. April 25 (Liberation Day) and then May 1, which is basically European labor day. Traditionally, on May 1, you are supposed to take the day off and head out to the countryside for a picnic.
Ideally, included in this meal, would be fresh fave beans and pecorino cheese. It's a very social kind of snack, since everyone peels their own fave beans, nibbling on them raw, while they alternate with bits of cheese. It tastes great, and a pile of fave beans on the table is admittedly gorgeous. But…..I always find it a bit too rustic a combo to serve at a real meal. Plus, I"m always thinking that while nice, there must be a way to incorporate a bit of salt and olive oil, which I feel is missing.

So last weekend I decided to take the idea of springtime fave e pecorino, and turn them into a bruschetta. First of all I asked my guests to shell the fave beans (when dealing with shucking, shelling or peeling it's always good to have house guests on hand). I then piled them on the chopping block and roughly cut them up with my mezzaluna.
A word about my mezzaluna: My friend Melissa was recently visiting us in Todi, and she said 'you're the first person that I ever saw use one of those things.' Really? Then I realized the mezzaluna is a true Italian housewife kind of thing. In other words, you can do a hell of a lot with an old, plastic-handled, semi-sharp mezzaluna that you picked up in a market in Florence 20 years ago (mine) just in case you don't have excellent chefs knives or a food processor. Which is the case with most Italian housewives. They are truly forgiving, and take zero skill to use.
A word about the pecorino: pecorino is simply the Italian word for sheep's milk cheese. Which covers quite a range of textures and tastes. Pecorino Romano can be sharp and salty, while pecorino toscano is definitely more nutty tasting. In this dish I used a rather fresh cheese that I had picked up earlier in the day at the local caseificio. So if possible, you want to find a cheese that is on the softer side, not too hard. More or less the same texture as a raw fave bean, and not overly aged.
While the bread was toasting, I tossed the chopped beans with a healthy pour of olive oil, some sea salt and cracked black pepper. The beans got piled atop the bruschetta with a handful of cubed pecorino. A bit more black pepper, and just a smidgen more olive oil and a picnic snack had turned into an extremely pretty and slightly more elegant first course.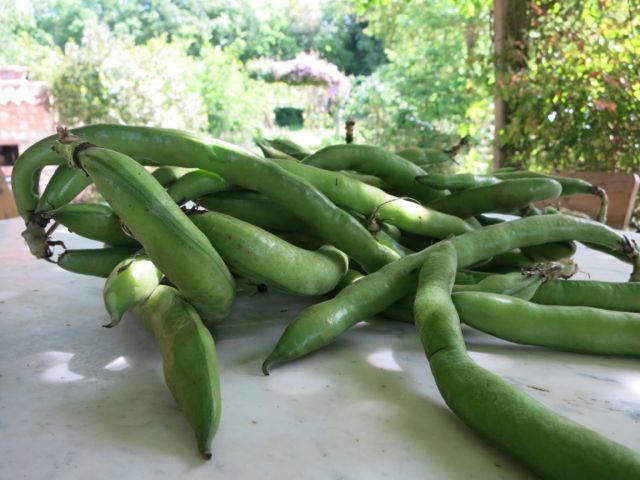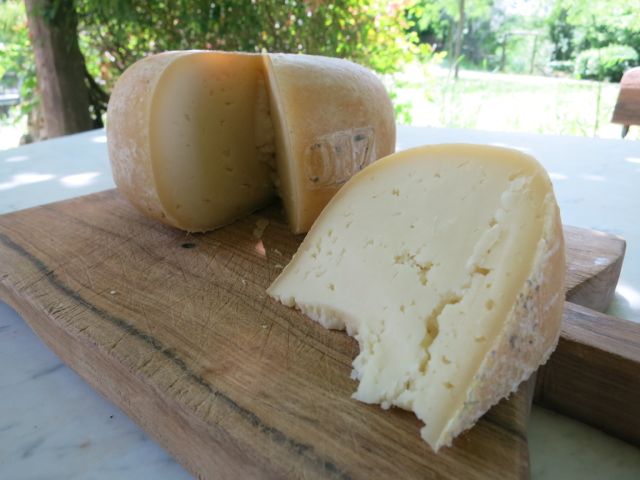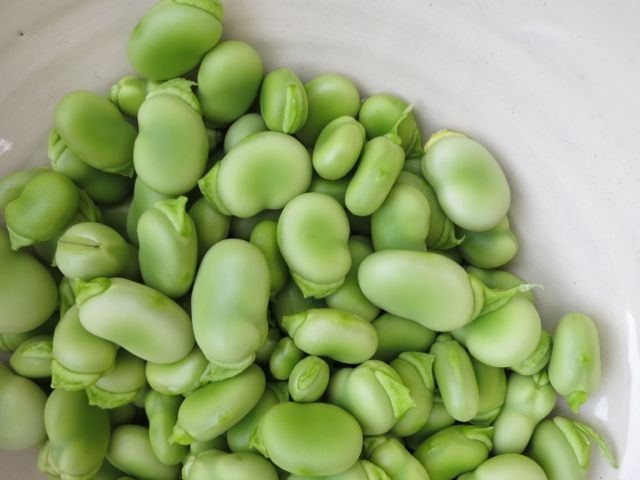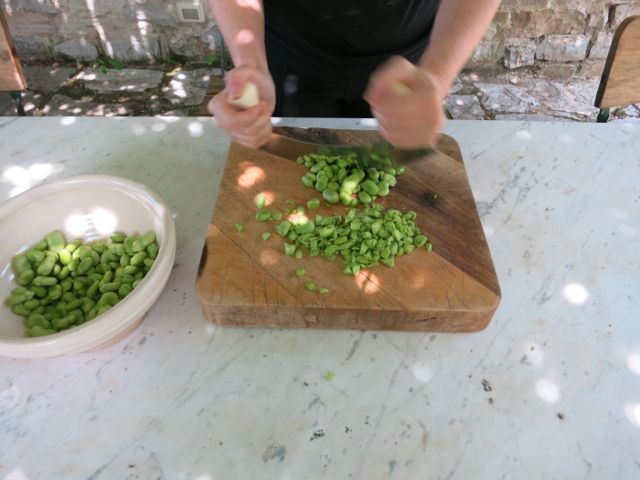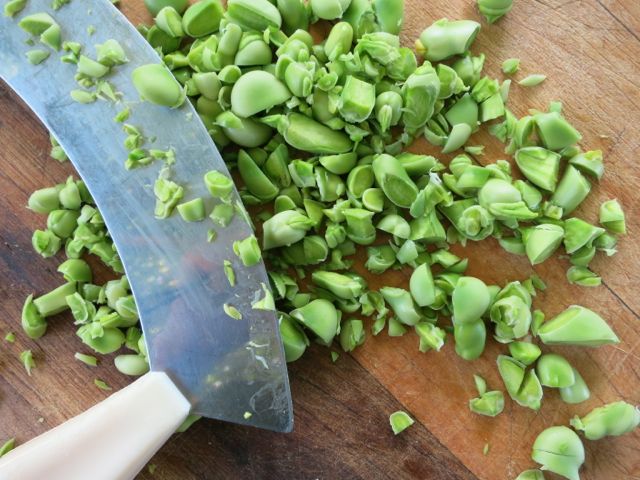 fave and pecorino bruschetta
1 kilo / 2 pounds fave beans in their shells
1 cup cubed pecorino
3 tablespoons plus more olive oil
salt, pepper
6 slices country bread
garlic (optional)
Take the fave beans out of their shells, and roughly chop with a mezzaluna or knife.
Place beans in a bowl and toss with olive oil, salt and pepper.
Toast the bread, over a fire if possible.
To assemble:
Rub toast with a piece of peeled garlic. Drizzle lightly with olive oil and sprinkle with salt. Top each slice with some of the chopped fave beans and then some of the cubed pecorino. Drizzle with a bit more olive oil, and top with freshly ground black pepper.