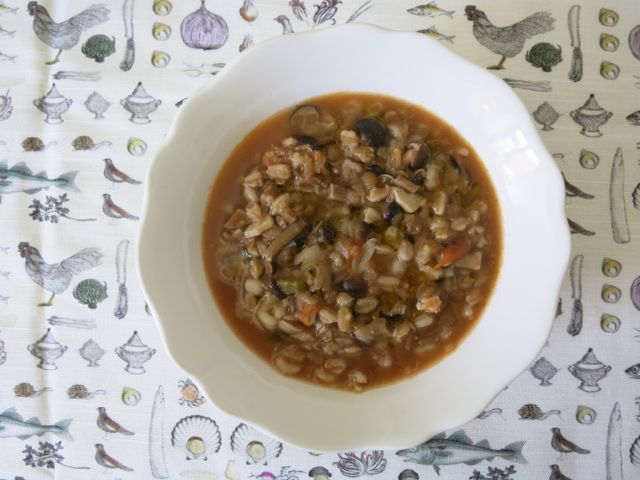 I know my mother is going to comment on this post. And say something like "I guess you would call this clean out the jar of beans soup". And make herself laugh. (she loves her own jokes)
For some reason 'clean out the anything' recipes have become her signature dish over the years. Clean out the fruit basket pie, clean out the fridge soup, clean out the cabinet casserole. There is no amount of leftover anything too small that can't be saved, put in a tupperware container, and used to create something the next day (or week?). My sisters and I have gotten into the habit, while cleaning up after dinner, of holding up a lone lettuce leaf that is stuck to the salad bowl and asking "Should we mail this to mommy?"

So I always feel slightly indebted to my mom's new style of thrifty nutty creative cooking when I come up with a recipe that uses bits and pieces of things that left on their own wouldn't quite make up a meal.
A few weeks ago I bought a bag of mixed beans and grains at the farmers market. I always have a feeling that these mixes result from the farmer's own left over stock of lentils, beans, split peas, etc. On their own they wouldn't be enough to package and bring to market. But mixed? They become a colorful and healthy base to a hearty soup.
My mix contained farro, split yellow peas, red lentils, soy beans and a few black beans. Nothing needed pre-soaking, so I was good to go. Channeling my inner mommy I also added a few leftover tomatoes, a half a leek that I couldn't bring myself to get rid of earlier in the week, and a half a pound of mushrooms that I really had meant to use up when I bought them 10 days before. In other words, I was back to my mother's clean out the fridge soup.
But it did turn out wonderfully. And got me thinking about my own huge glass jars that I display in my kitchen that are most often full to the brim of picture perfect, dried legumes and grains, yet at other times sadly almost empty, with just a quarter cup left at the bottom of each. So this recipe is good for those kinds of leftovers too (which I am sure you have.) Just mix them up and start from there. And before you know it you'll have a big pot of warming soup.
So big, in fact, I'm sure you'll have leftovers. And if you need ideas for what to do with the left over soup, just write my mom. I'm sure she has a some sort of clean out the soup pot recipe up her sleeve.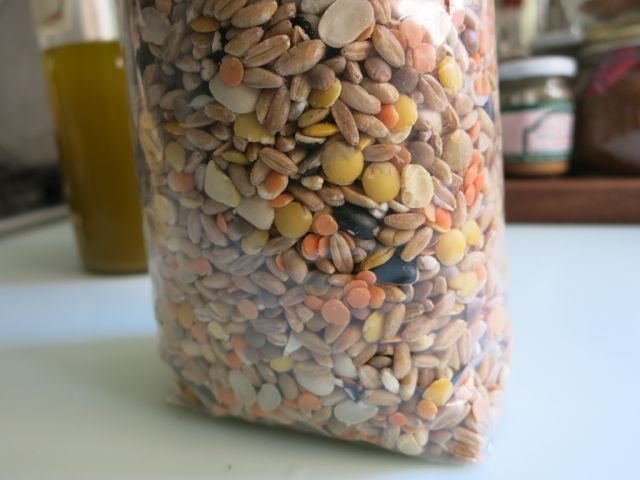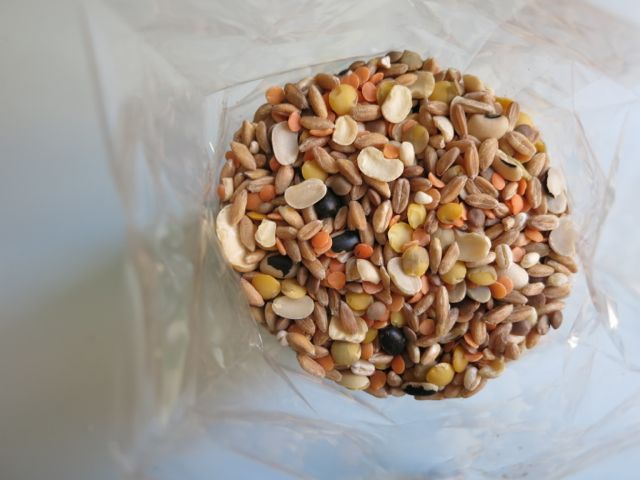 2 cups mixed grains and legumes (excluding any beans that need extra long soaking)
2 small onions or half a leek, chopped
3-4 tomatoes, chopped
2 cloves garlic, chopped
2 cups chopped mushrooms (I used somewhat sorry looking chiodini, but any will do)
1 stalk celery, chopped
1 tsp salt
1/2 tsp ground pepper
2 tablespoons herbes de provence (or any mix of rosemary, thyme, oregano, etc)
2 tablespoons olive oil
Pour olive oil into 2 quart pan. Heat gently and add onion and celery. Let cook for about 8 minutes until wilted. Add chopped tomatoes, and cook until most of the liquid has evaporated, about 7 minutes. Add garlic , herbs, salt and pepper and stir for a few minutes. Add mushrooms, and cook until they have wilted, about 10 minutes. Add your grain and bean mix, stir well, and add enough water to cover by about 2 inches. Bring to boil, then reduce to simmer and cover. Let cook for about an hour or so. Check every so often to make sure that the water hasn't completely boiled away. This will vary, depending on what grains and legumes you use. Add more water if necessary. (You want it to be soupy, so if you keep it over night you will find most of the liquid has been absorbed. Just add more water, heat through and adjust for seasoning. )
Serve topped with grated cheese and a drizzle of olive oil if you like.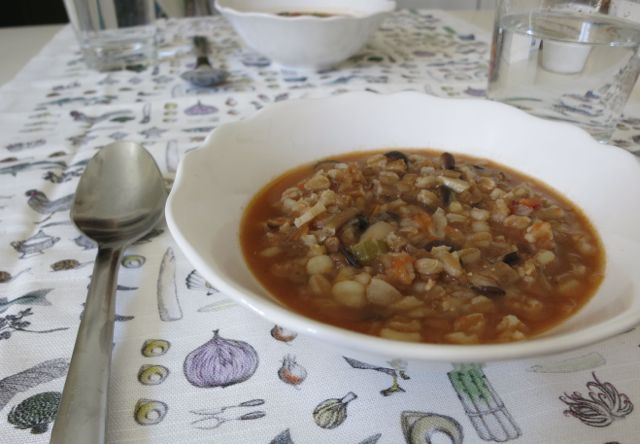 And I'll reply to the comments before you even write them: that cute runner? It's one of the newest productions from Tablecloths.it. I've written about them here . And you can find them directly here.