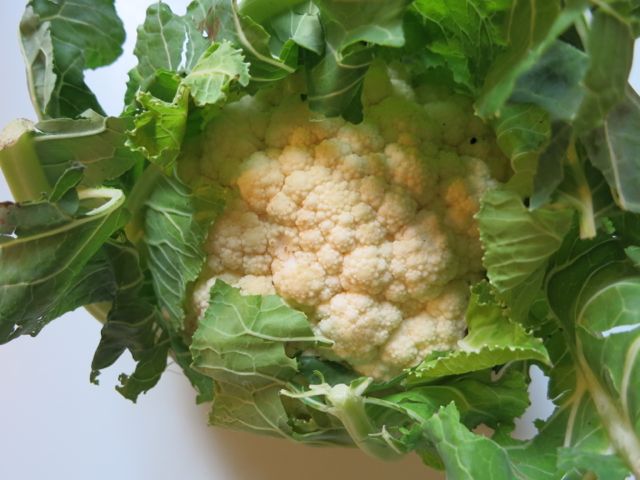 I love leeks. When they are in season, I'll make sure to buy as many as will fit in my shopping bag each Saturday at the Farmer's market. I'm never sure what I'll do with them, but know that whatever I'm making can only be made better by a leek or two.
Rarely do I cook them on their own. Although my sisters and I grew up loving leeks vinaigrette, these days I almost never serve them on their own. Instead, they make their way into frittatas, pastas and soups, adding not only their distinctly pungent yet delicate flavor, but acting as a thickener when they become meltingly tender.

But the other night while I was staring at my cauliflower, trying to decide how it could become dinner, (yes, that's what I do, stare at vegetables), I remembered Melissa's recent article in the New York Times about roasting leeks. While I'd roasted cauliflower plenty of times before, adding a few chopped up leeks to the mix sounded like a good idea.
Melissa had described the wonderful way the leeks caramelize in the the oven, with the edges getting golden to dark brown, while still staying sweet. Suddenly my cauliflower wasn't looking so bland.
Once chopped up, I tossed everything with a generous pour of olive oil, and then added a handful of chopped sage. I had bought the sage mostly because it was so pretty. But also with some vague idea of using it when I roasted pork later in the week. Rarely do I add sage to vegetables, since the slightly piney taste usually overpowers the show. But I figured since I was planning on letting everything get all browned and crispy anyway, it was almost like roasting meat, right? Well, whatever. It worked.
The cauliflower turned golden and crispy, and the leeks were the perfect partner. While some of the chunks turned a deep brown, others stayed green and soft. And the sage somehow made it all seem like it was more than just a plate of vegetables. Served over a heaping mound of farro, it was definitely main course dinner worthy.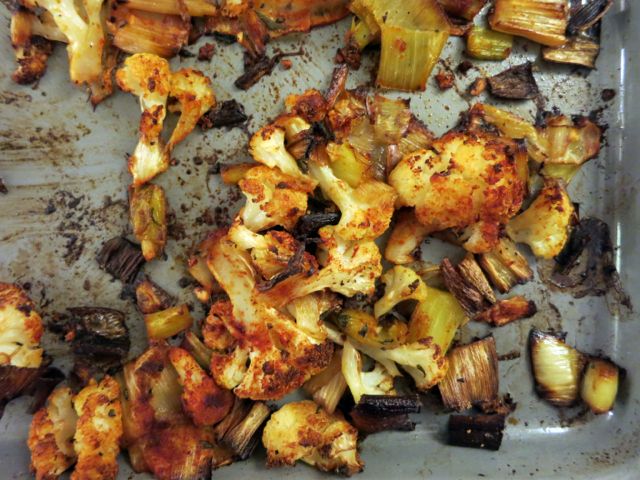 roast leeks and cauliflower
3 big fat leeks
1 head of cauliflower
3-4 tablespoons olive oil
2 tablespoons chopped fresh sage
salt
pepper
Preheat over to 400F/ 200C
Clean the leeks as expertly described by Melissa in her video. Chop them into 1 inch chunks.
Wash and divide the cauliflower into florets.
Lay the vegetables on a cooking sheet, in one layer. Pour the olive oil over it all, and mix well (you can use your hands). Sprinkle with sage, salt and pepper, and mix again.
Put the vegetables into the hot oven, and cook for about 25 minutes. Keep an eye on them, though, because with such a hot oven they can go from brown to black pretty quickly.
Serve as a side dish, or else on their own over brown rice or farro.