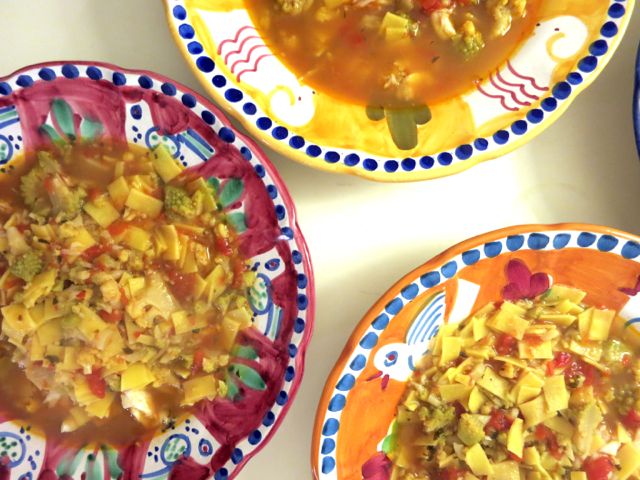 When I decide to have people over for dinner, I'm always on the lookout for a certain kind of recipe. I figure that since I'm throwing a dinner party, which is a special occasion in itself, that I should spend more time than usual preparing whatever it is I end up serving.
But. And this is a bit 'but.' Even if I spend hours in the kitchen that day (which I actually love the excuse to do) , the recipe should have absolutely no last minute fussiness once the guests arrive (which I loath.) Which is why soup is often my go to first course. I can make it ahead of time and then just reheat it before serving. No fancy schmancy kitchen antics involved.
So I can sit out in the living room, enjoying a cocktail, just like my guests. (you knew where this was going, right?)

Last Friday I found the perfect recipe to fit my stringent requirements: minestra di broccoli e arzilla. This is an old fashioned Roman recipe that uses skate to form a fishy broth. It's cucina povera at its most delicious. It takes two inexpensive ingredients and turns them into something magically delicious.
Although I'd had it many times in restaurants, I wanted to try it at home. I figured dealing with this weird fish would keep me occupied for most of the day. As an extra bonus I got to spend the morning browsing through my various Lazio and Rome cookbooks, and was also able to use up the two heads of broccolo romano I had bought earlier in the week.
The thing is, arzilla is actually not that easy to find these days. It's related to shark and there are no organized fisheries. It's a by catch, and so I was hoping I'd be lucky enough to find one. Thankfully, I live near one of the best fish stores in town (Galluzzi) who just happened to have one of these completely frightening looking beasts. Thank god they cleaned it for me, because even though I was prepared to cook the day away, I don't think I could have handled pealing away the shark-like skin and dismembering those long you-know-what shaped things hanging off of it.
Once home though, I was good to go. I carefully laid my monster in a pan, covered it with water and aromatics, and cooked it just until the flesh was done, a half hour. Once it had cooled a bit, I gently took the flesh from the cartilaginous skeleton (just like a shark, I guess) and then put those 'bones' back in to continue cooking what soon began to smell like the best fish broth ever.
Once I got the buying and the brothing of the arzilla out of the way, the rest of the soup was surprisingly easy to pull together. Actually easier than I would have liked (I was gearing up for some sort of challenge). But the great thing was that it was completely finished by 4pm. Which left me a few hours to work on the main course (to be continued), set the table, and….get out those cocktail glasses.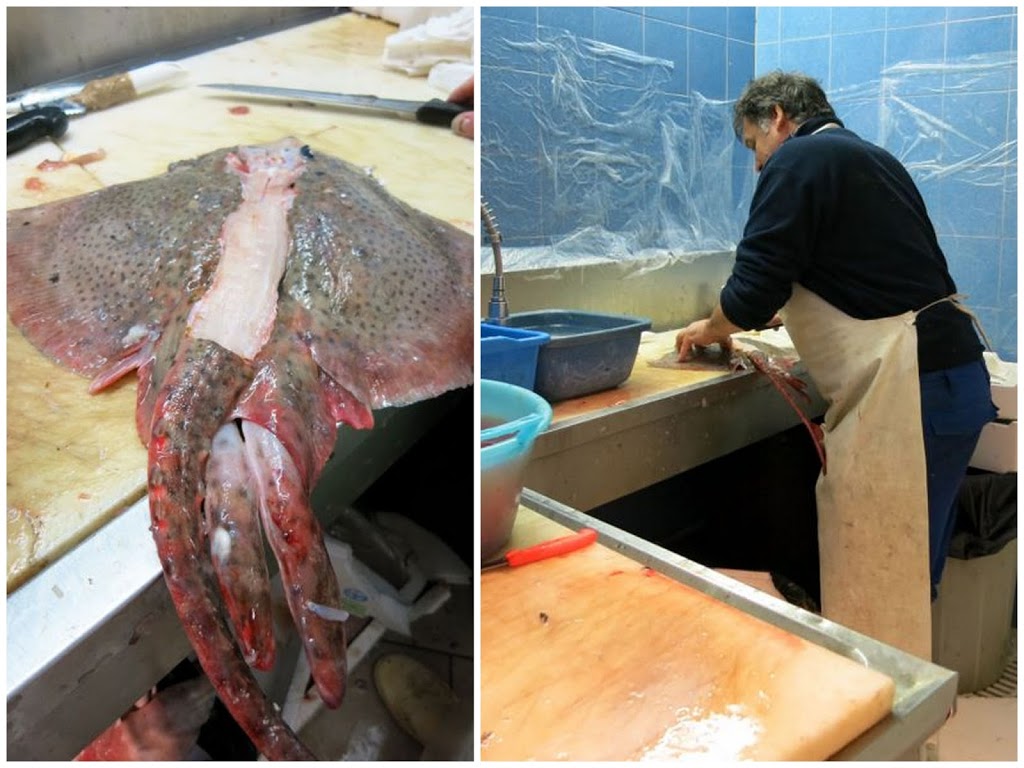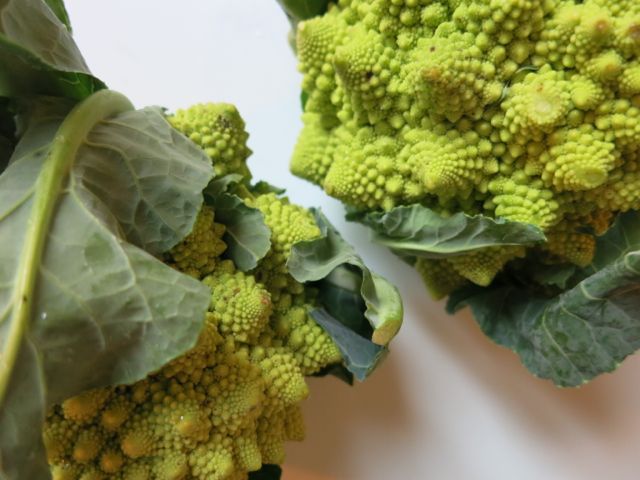 minestra di broccoli e arzilla
(serves 8)
This recipe is, as I've said, a very old fashioned Roman one. It's also got very few ingredients. So while I usually suggest substitutions, I really can't in this case. You can certainly use this recipe as a base to make another type of fish and vegetable soup with pasta. But it's not going to have the distinctive taste that the arzilla and broccolo romano lend. Sorry.
2 kilos/ 4 pounds Arzilla*
1 kilo / 2 pounds broccolo romano (that bright green looking cauliflower)
2 sticks celery
2 carrots
1 small onion
250 grams canned tomatoes
4 cloves garlic
1 tsp red pepper flakes
parsley
8 anchovies
1/4 cup of olive oil
1 cup white wine.
500 grams / 1 pound egg quadrucci (I know the recipe traditionally calls for broken spaghetti, but I like little squares of fresh egg pasta)
In a pan large enough to hold the entire fish, place the fish and cover with water. (you should have about 10 cups of water). Bring the pot to a gentle boil. Skim off any foam and add the celery, carrot and onion. Simmer, covered, for about a half hour.
Gently remove the fish, and let it cool enough to handle. Carefully remove all the flesh from the cartilage. Set the flesh aside, and return the cartilage to the pot. Bring back to a simmer, cover, and let cook another half hour.
Into a large pot, pour olive oil and bring to medium heat. Add chopped garlic and red pepper,and let cook for about 30 seconds. Add anchovies and parsley, and let cook another minute. Add white wine, bring to simmer, and let cook for a minute. Finally add the tomatoes and let cook for about 20 minutes.
When the tomatoes have broken up, and cooked, add the broccolo (which you have divided into small florets) and the drained fish broth. Bring to simmer and let cook another 20 minutes.
At this point taste and adjust for salt.
Right before you serve the soup, bring back to a boil, and add the pasta. It should cook in a few minutes. Add the pasta right before you serve, or else the pasta will absorb all of the broth. (I don't consider this part to be last-minute fussiness, since it takes the pasta about 3 minutes to cook. And I can bring my cocktail, and maybe a guest, into the kitchen with me)
Divide the reserved fish between the eight bowls. Spoon the piping hot soup over each and serve.
This dish, being fishy, does not get sprinkled with any sort of cheese. But do feel free to have a bottle of extra virgin olive oil on the table, as well as hot pepper flakes.
*if you do find skate or ray, make sure you buy the whole fish, but have the fish monger clean it of not only the guts, but the tough outer skin as well.