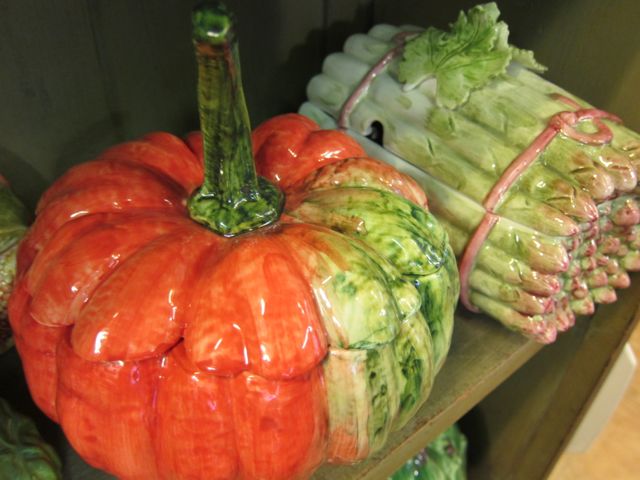 I've been eating working in Venice this past week. And while I've made time for non-food related adventures like visiting the Accademia and popping in and out of various churches, most of my time has been spent in restaurants, researching my new app EAT VENICE
Even my shopping (because of course I've made time for shopping) has been food-tinged. In fact, one of the first places I made a bee line for was one of my favorite shops not only in Venice, but in Italy.
I first discovered Riggatieri when I was working on a article for Bon Appetit. It was one of those "Italy" themed issues, and I was in charge of finding foodie shopping sources in Florence, Venice and Rome.

Rome and Florence were no problem. Venice was a completely different animal. While the other two cities are definitely touristy, they are also real, thriving cities where Romans and Florentines actually continue to live. Venice has, sadly, pretty much given itself over to the tourist trade. As any Venetian will tell you, they are an endangered species.
Which makes finding the authentic – be it food or anything more permanent – a real challenge.
Most of the stores are filled with schlock that has obviously been designed for tourists. Even when it's a craft that has a solid tradition in the Lagoon – like glass making – the objects that stand out are downright scary. I mean really, who buys those frightening glass clowns?
Rigattieri is different though. The tiny store is filled with one thing, and one thing only: ceramics from nearby Nove in Bassano. While the small town's 100 or so ceramic producers make all sorts of thing, Rigattieri features one genre: food-shaped objects.
When you first walk into this tiny shop you may be overwhelmed, and even think that the piles of brightly colored ceramics are on the, well, tacky, side. But if you take the time to look at each and every one separately you soon realize that each is a little work of art.
I, of course, want everything. The only thing that holds me back is size. Size of my apartment back in Rome (small) and size of my suitcase (smaller). What I've always coveted is a full set of bright green lettuce-shaped bowls. And the only reason I haven't gotten a tureen yet (besides the fact that I never use tureens) is that I can't decide which variety of pumpkin is prettiest. And don't even get me started on the artichoke-shaped tureen.
So I make myself ignore the humongous gorgeous egg and grape centerpieces, and focus on the small. Spoon rests – which only cost 6 euros each! – come in everything from artichoke to fennel. I usually pick up a half dozen (yes, they become Christmas presents).
The only reason I didn't buy a boar-topped butter dish for my friend Laura (who has a boar thing going on) is because it seemed too delicate to tote back. And I can't believe I didn't get an asparagus dish or two.
But I did manage to buy at least one totally useless yet completely charming object. Or objects. A pair of pea pod salt and pepper shakers. Why useless? Because like everyone else I know, my salt comes in every shape and size, but the huge, crunchy flakes will never fit in a shaker. Ditto for the pepper.
But they are cute, aren't they? How could I resist? I have come to realize that when it comes to shopping I am my mother's child. Her rationalization for impulse purchases is that she can always sell it later in a tag sale. Mine? They will always make a nice gift for someone.
Lucky you.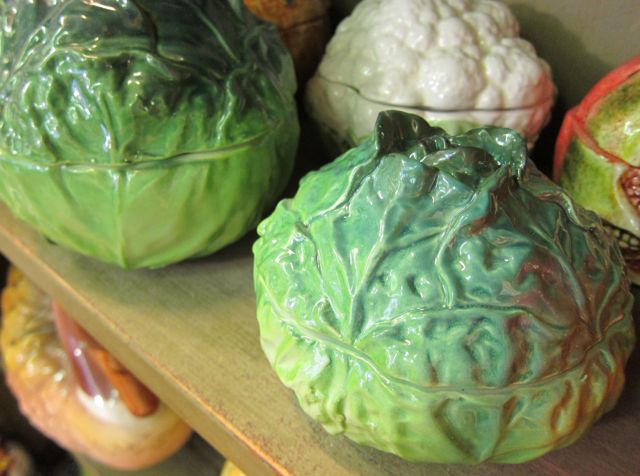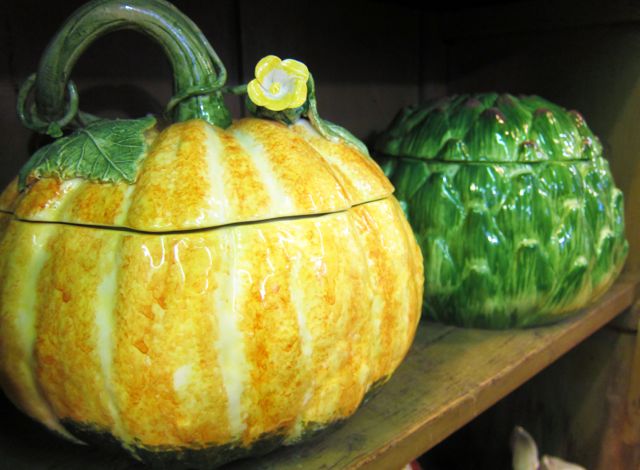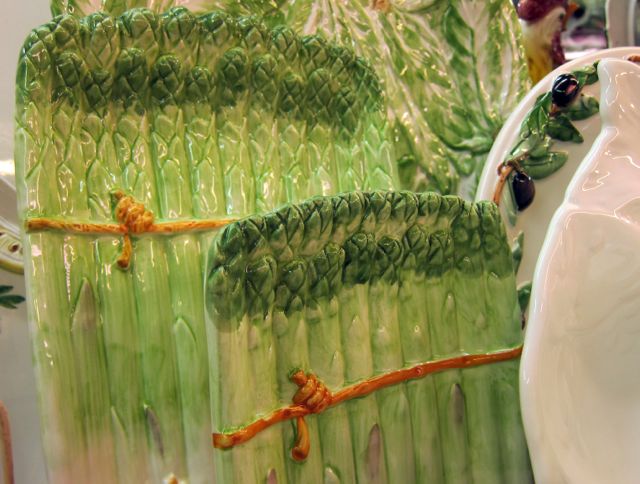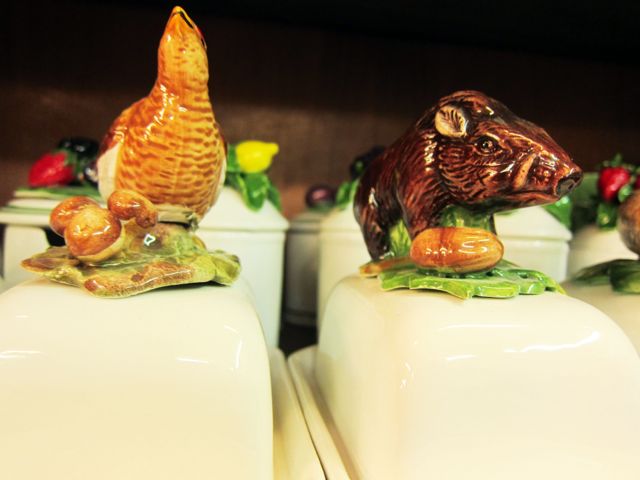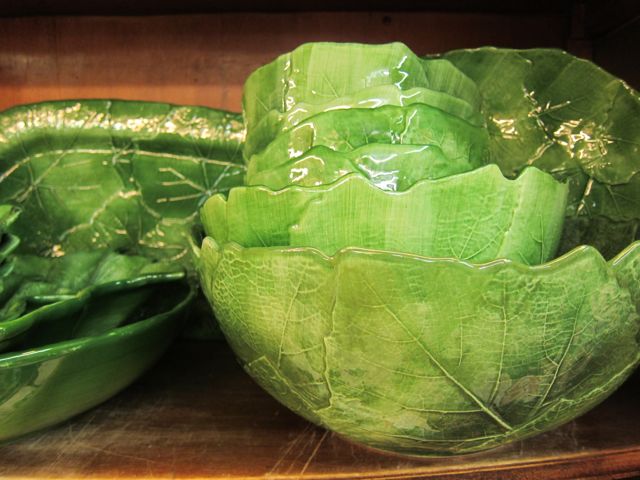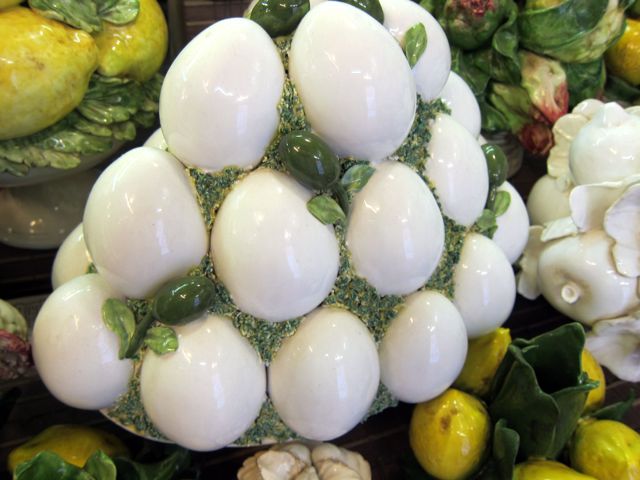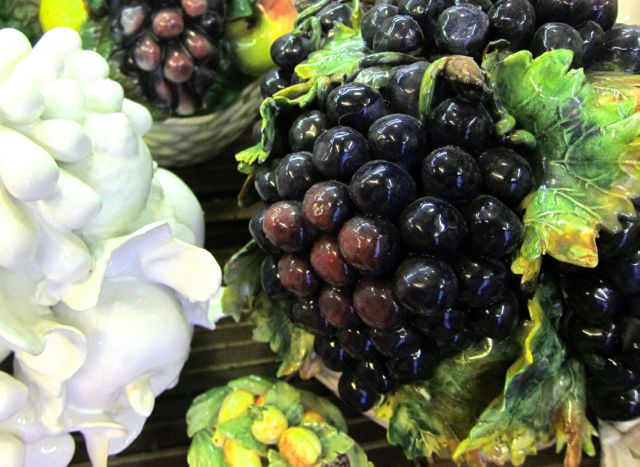 Rigattieri
San Marco 3535
+39.041.277.1223
The small street is located between Campo Sant' Angelo and Campo Santo Stefano