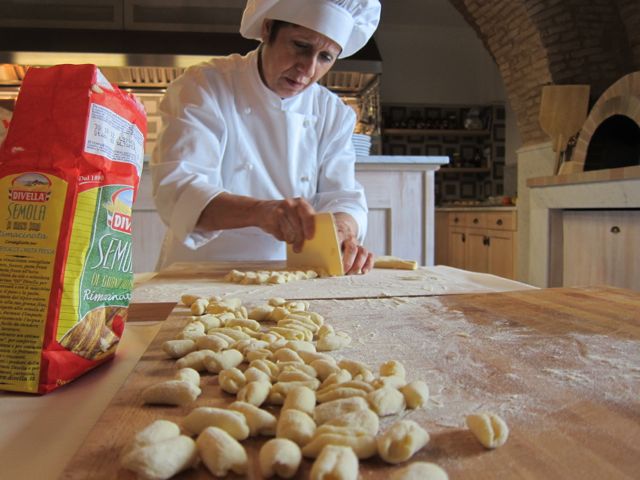 I admit it. Pasta scares me. Not cooking pasta. And certainly not eating pasta. But making pasta. Scary.

You'd think that after most of my life spent in Italy in the food world that I'd be flinging sheets of pasta right and left. But up until now the only thing I was flinging around was flour and water, and making a mess of it in the process.

The thing is, pasta making takes technique. It's not really something that you can read about in a book and 'get' the first time around. It helps to take lessons. I'm big on reading, and rarely sign up for classes about anything (the whole Bonci pizza and bread thing was not the norm for me) And so even though I always thought about taking a pasta making class, plans never turned into reality.

Until I found myself with two free hours in Palazzo Margherita a couple of months ago.

Palazzo Margherita is Francis Ford Coppola's newest hotel, and I was there checking it out for Travel & Leisure. So even though I was intent on the design, the amenities, the sheets and everything else that goes into making a hotel "It List" worthy, you can bet what I was really interested in was what was going on in the kitchen.

And this is where Filomena and my pasta epiphany comes in. As one would expect from any award winning director, Coppola has cast his latest project perfectly. And while the gracious staff makes a stay at Palazzo Margherita a dream, the pivotal role is played by Filomena.

The great thing about Palazzo Margherita is that it really feels more like a home (ok, a millionaire's home) than a hotel. There are living rooms, terraces, gardens and all sorts of communal spaces that are cozy, warm and inviting. And like any home, eventually everyone ends up in the kitchen. Where Filomena holds center stage.

Although I guess Francis could have shipped in a fancy chef from anywhere in the world, he realized that the beating heart of the Palazzo would be the kitchen and so chose a local nonna to bring it to life. Running things with warmth and skill, Filomena is just the kind of Italian nonna that you are hoping to find. One that will insist you sit down at the kitchen table while she serves you the most delicious, local food you can imagine.

I was lucky enough to enjoy both lunch and dinner at the big wooden table that takes up half the room (more on that later). And although I'm sure Filomena had her hands full cooking, she generously put down her pots and pans, and pulled out her flour to give me a cooking lesson that cured me of my pasta fears, once and for all.

I'm not going to write up a formal recipe, since there are just two ingredients: flour and water. And more to the point, I made a short video that will have you making pasta in no time (remember, it's all about technique). Although we worked on a few different shapes, it was the rucola that I fell in love with. Even though it looks all kinds of complicated, it couldn't have been easier to make.

The Flour: this is semola di grano duro. Easy to find in Italy, it is called coarsely ground durum wheat flour in the States.

The Water: It must be boiling. Do not use cold water.

Place a half kilo/1 pound of flour in a mound on a floured board. Make a well in the center and slowly start adding the boiling water. Using a metal spatula, start pulling in the flour, mixing and adding more. Add only enough water until you get a springy consistency. As Filomena says "You can just feel it."

After kneading it for a while, until it is silky smooth, break off a piece of dough and roll it into a tube about the diameter of a finger. Using the metal spatula or knife, cut off half inch pieces.

Once you have the pieces cut off it's time to shape the pasta into rucola. There is really no easy way to explain in words how this is done. Using your index finger, drag each piece across the wooden board, so that it curls up on itself.

Just watch the video. Watch it a few times and then watch it again.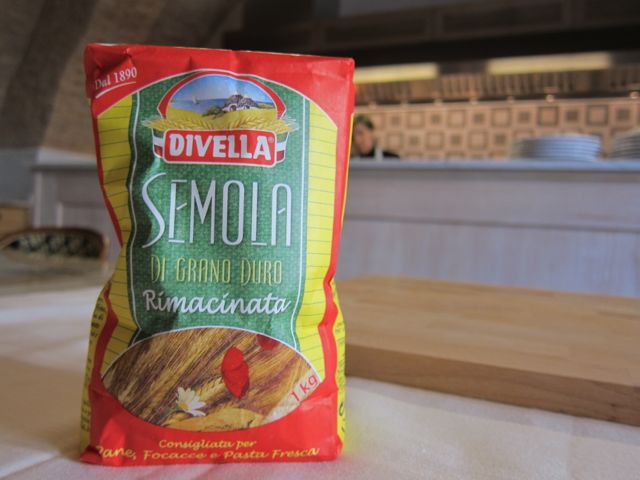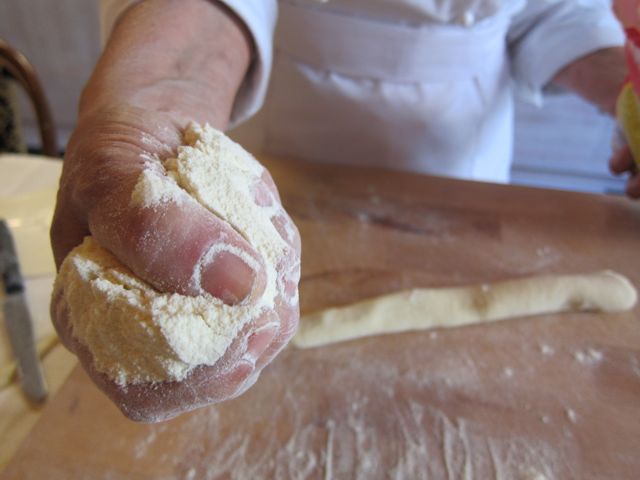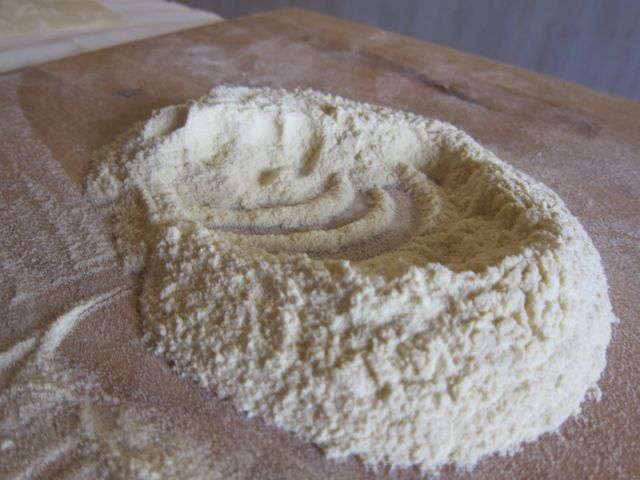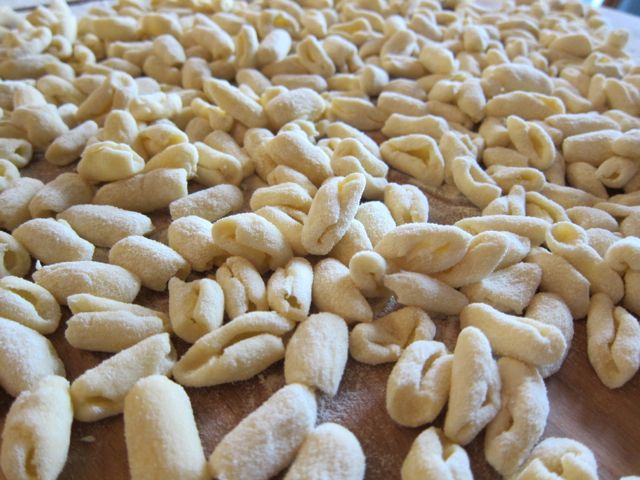 Once you get the hang of it it really is pretty easy.

This is the perfect starter pasta. There are no eggs to worry about, and as long as you don't burn your hands with the boiling water, the mixing is pretty straight forward. There is no rolling out of paper thin sheets of pasta that tear at the slightest touch. In fact, working this dough is a lot like playing with play doh.

And the making rucola thing? Once you start going, it's actually a lot of fun. Not at all scary.
Promise.