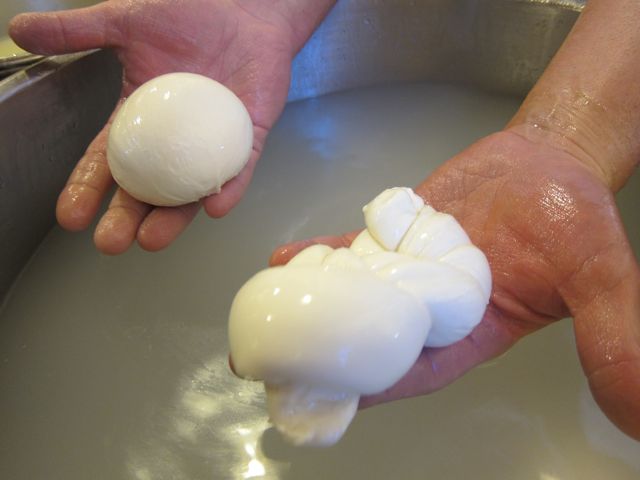 A few weeks ago I was invited down to Puglia by the Identita Golose folks, along with Oscar Farinetti of Eataly fame. I – and the other journalists on the trip – somehow thought the trip was supposed to be all about tasting Coratina olive oil. As it turned out it we were invited mostly to help 'judge' some dishes that are going to be served in Eataly's round the world.

It was all a bit odd, with quick visits to local sites which included a somewhat industrial olive mill and a very 'cheesy' mozzarella showroom set up by Caseificio Olanda.

When I first saw 'visit to caseificio' on the itinerary I imagined a visit to a farm-based cheese making workshop, to watch the entire process of buratta being made. Instead, we were all seated in a sort of small – very artificial – auditorium, where a master cheese maker stretched, braided, pushed and shoved fresh curd into various mozzarella shapes.
Not quite the authentic experience I was hoping for.

But…..actually kind of fascinating to watch.

Although I've visited much more authentic cheese makers in my life (here and here for instance) , this guy was pretty amazing. He's actually the son of the owners and recently travelled to NYC to teach the Eataly cheesemongers there how to make their own mozzarella.

So I thought I'd share this little video with you. Please keep in mind that the music in the background is not my addition. This was playing the entire time we watched. (I told you it was in a stage-like setting and I guess Olanda thought the cheese demonstration needed a snappy sound track.)

You may have to watch it a few times, his hands are working so fast. And the entire process is a bit mesmerizing and rythmic.